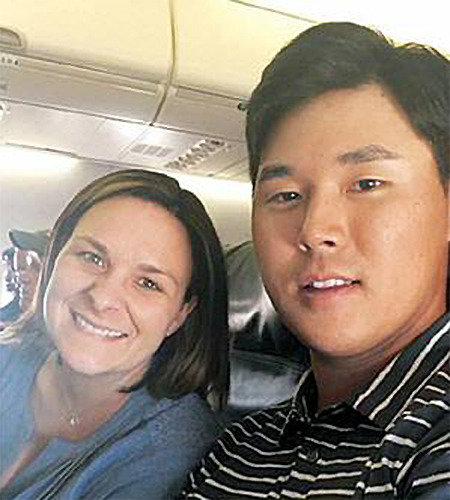 Things have changed overnight. Korean male golfer Kim Si-woo has become the youngest to win the 2017 PGA Players Championship, which is considered the unofficial "fifth major."
Marking a new milestone, Kim is considered the next generation star golfer. As Kim decided not to play at the AT&T Byron Nelson that opens Friday citing back injury, major media including PGA Tour immediately sent out the news. Given that Kim had not received much media attention, his status has changed. "This is a preventive decision to digest the season with the utmost physical condition," Kim said.
Kim took an economy seat on a flight back to his home in Dallas after finishing the Players Championship, which also garnered attention by Golf.com. A female passenger recognized him, took a picture of him and posted it on Facebook. Golf.com bet that the youngest person to win in history will not use economy seat in the future.
Having received 1.89 million dollars as prize, Kim also got a huge bonus. "Kim signed an incentive contract to receive extra about 30 percent of the award money," Kim's sponsor CJ Group said.
CJ can arrange a three-year-plus contract with Kim who had one year left in contract period. "If we had tried to renew contract with Kim after his victory at the Players Championship, annual contract money could have soared to millions of dollars," a CJ source said.
The unexpected victory of Kim allowed a 21-year-old golf fan in Ireland receive sizable dividend. According to Golf Digest, the fan bet 200 euros (221 dollars) in Kim's victory and the 500 times dividend rate allowed him to get 60,200 euros (66,551 dollars).
Jong-Seok Kim kjs0123@donga.com