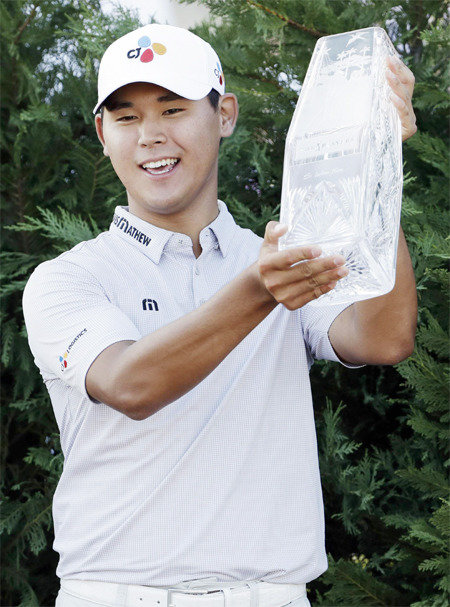 He was ranking 205th in driver shots, 203rd in iron shots and 183 in putts. Can anyone ever imagine that a player with this poor performance will win the Players Championship, dubbed one of the PGA Tour's top five tournaments?
"It would be the biggest surprise ever in the history of golf." This is what Brandel Chamblee, a PGA tour player-turned commentator on Golf Channel in the U.S., had to say about Kim Si-woo's win.
Kim had 3-under 69 in the fourth round of the tournament, which took place at the TPC Sawgrass Stadium Course (par 72) in Ponte Vedra Beach, Florida on Sunday local time. With 10-under 278 overall, the Korean golfer beat Ian Poulter of England, and Louis Oosthuizen of South Africa who tied for second (with 7-under 281 overall) by three strokes, becoming the youngest ever winner of the tournament.
Kim Si-woo's shots were hardly close to being perfect on the day. He had the flying distance of his driver shots reaching as much as 306 yards on average, but only nine (64.3 percent) of his 14 driver shots made it into the fairway. His Green-In-Regulation only amounted to 44.4 percent (eight of 18 shots) as well.
The 21-year-old was armed with gut that no one else had. He never lost focus even when facing a crisis. He managed to secure scrambling (playing par even when failing to have par-on) in all of the 10 occasions when his shots missed the green. He was the only player who did not play any bogey in the final round on the day. "Any players will come to experience ups and downs when they don't play good shots. But Kim Si-woo did not seem to get disappointed at erred shots today," said Oosthuizen after playing with Kim.
Kim benefited significantly from forefinger grip that he adopted recently. He changed his grip after witnessing Sergio García win the Masters' Championship last month by using the forefinger grip. Forefinger grip refers to the grip technique in which player holds the shaft of the putter tightly by using the thumb of the right hand and the forefinger of the left hand when putting.
Kim started playing the final round when standing at fourth and trailing the frontrunners' group by two strokes. Having made birdie on 1, he successfully made an 8-meter birdie putt on 7 to emerge as the lone lead and also made a six-meter birdie on 9, displaying very stable putting skills throughout the event. "Forefinger grip is advantageous in that it allows the player to minimize the wrists' move. It offers high accuracy when playing a short-distance or intermediate-distance putt," said Park Do-gyu, former athletic chairman of the Korean PGA Tour who has been using the forefinger grip method for more than 10 years.
Heon-Jae Lee uni@donga.com