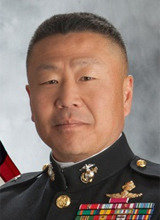 Daniel D. Yoo (57, photo) has been appointed as the first Korean American commanding general of U.S. Marine division, becoming the commander who takes control of the special warfare unit in the U.S. Pacific Command.
Daniel D. Yoo, the Operations Officer of U.S. Special Operations Command (SOCOM), has been appointed as the major general of the Special Operations Command Pacific (SOCPAC), said Military.com, a website specializing in military news, reported on Friday (local time). It is the first time that a Marine Corps general serves as the commander of SOCPAC. SOCPAC is a sub-unified command that plans, controls, and adjusts spare warfare in the Asia pacific region including South Korea. SOCPAC deploys special forces and troops in multiple military exercises including Rim of the Pacific Exercise (RIMPAC) to coordinate with allies.
He graduated from Arizona State University in 1985 and was commissioned a Second Lieutenant following completion of Officer Candidate School. He served as a Reconnaissance Company Commander where best of best marines were deployed and the Operations Officer in the Joint Chiefs of Staff, and is considered to have excellent capabilities of commanding the field and policy executions. He was a National Security Affairs Fellow at the Hoover Institution on War, Revolution and Peace, Stanford University as well as the Commandant of the Marine Corps' Military Fellow at the Council on Foreign Relations.
Eun-A Cho achim@donga.com