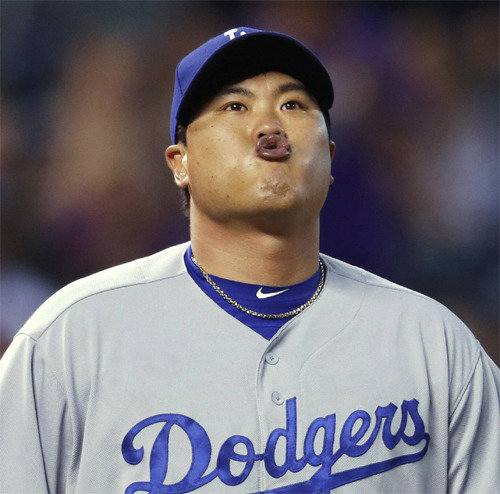 Los Angeles Dodgers pitcher Ryu Hyun-jin (30) took the mound at Coors Field for his second win this season. Unfortunately, his poor pitching performance led him to the fifth loss this season. Ryu started the game against the Colorado Rockies at Coors Field in Denver, Colorado on Friday, and he allowed eight hits, six walks and 10 runs (five earned) in four innings. Ryu has recorded his highest number of runs in a single game since his Major League Baseball debut in 2013. Ryu's Earned Run Average has increased by a large margin from 4.05 to 4.99. In the end, the Colorado Rockies defeated the Los Angeles Dodgers 10-7.
Ryu was reinstated in eleven days after being put on the disabled list from his hip injury on May 2. He started the game fresh, striking out Charlie Blackmon in the bottom of the first, but the game did not go well after allowing a walk to the second batter DJ LeMahieu. It was followed by a hit by Nolan Arenado, who had two home runs against Ryu on April 19, and a two-run double by Ian Desmond. In the second inning, Ryu gave up five runs from consecutive doubles by Arenado and Mark Reynolds. In the fourth inning, Ryu balked a run for the first time since his MLB debut, and the Rockies earned three more runs on Ryu who was struggling with his ball control.
Overall, Ryu's fastballs were slow and not working and breaking balls and changeups seemed powerless to intimidate pitchers due to Rye's poor ball control. The speed of Ryu's fastball was only at 90 miles (145 kilometers) per hour. Ryu's combination of balls was not aggressive enough. Coors Filed has been viewed as a pitcher's nightmare because wind resistance level is low due to its location on 1,600 meters above sea level, a flying range is long and batters record many home runs. Too concerned of these characteristics of Coors Filed, Ryu failed to display his aggressive pitching style to throw a ball closer to the pitcher's body.
Jae-Yeong Yoo elegant@donga.com