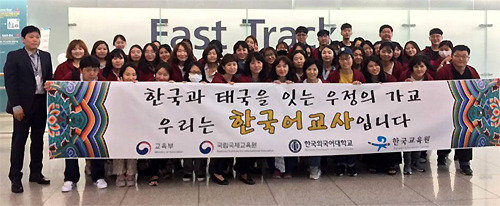 The Education Ministry has sent 58 Korean instructors to 58 secondary schools in Thailand as more Thai schools adopt Korean as a second language in the curriculum amid the increasing popularity of the Korean pop culture.
The instructors will teach Korean as a second language at schools in Thailand until March next year. They have a bachelor's degree and Level 1 or Level 2 of the Korean Language Teacher Certificate issued under the Framework Act on the National Language.
Upon the request of the Thai government, the Education Ministry has sent around 60 Korean instructors to Thailand every year since 2011. The expenses for them are covered by both governments.
The number of schools that teach Korean jumped from 11 in 2011 to 82 in 2016. They include Triam Udom Suksa School, one of the most prestigious high schools in Thailand. The number of people learning Korean increased around 600 in 2010 to around 30,000 in 2016, with a rise in the number of test takers of the Test of Proficiency in Korean (TOPIK) increased from 1,603 in 2013 to 4,190 in 2016.
Aside from the program, the Education Ministry also started a project fostering Thai people as Korean instructors in 2014. The ministry has sponsored Korean language education through 41 Korean Education Centers in 18 countries in America, Europe and Asia. The number of countries and schools teaching Korean in the official curriculum, including afterschool programs, rose from 1,111 schools in 26 countries in 2014 to 1,309 schools in 29 countries in 2016.
Deok-Young Yu firedy@donga.com