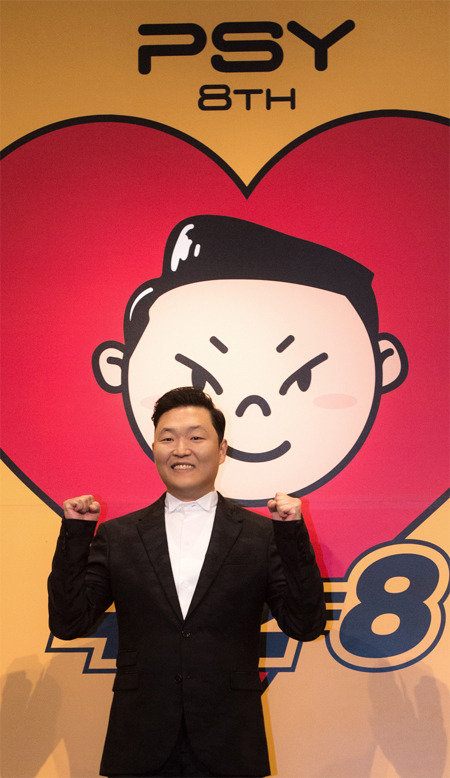 Korean pop singer Psy held a press conference in Seoul on Wednesday, talking about his new songs, allegations of his involvement of the influence-peddling scandal and why he decided to postpone his comeback in the end of last year and returned when the presidential election ended.
"It is absolutely not true that I received favor. The reason I delayed announcement of new songs is that I thought it would not be appropriate to release a song since I mostly pursue exciting and fun-oriented songs," he said. "I wasn't excited either back then as one of the Korean people. Of course I would feel good if I was able to be on the billboard chart with the help of some people. But that is nonsense. Since rumors breed rumors, I chose to keep silent."
Psy's new title "New Face" and "'I LUV IT" have comical lyrics and video as well as infectious chorus like his previous songs "Gangnam Style," "Hangover," and "Daddy."
"I LUV IT" is full of Psy's B grade comedy that can be made fun of, and is expected to gain popularity. The song has Korean traditional houses, Korean fan dance and Asiana Air passenger planes as backgrounds where funny dances and toilet humors are added. When the chorus part goes "Bone the fish when eating fish/take out watermelon seeds when eating watermelon" actor Lee Byung-hun appears and acts and dances as he did in his movie "Inside Men." Japanese comedian Daro Pico who had dominated YouTube with his comic song "PPAP" also appeared as a guest star. Psy said, "Lee really made efforts to memorize his lip sync part of the lyrics. I was impressed."
"New Face" is also full of Psy style humor code. The song's background is hotel, where he becomes a bell boy, casino dealer, a mock Venetian gondola driver, and repeats "I like other women" with Son Na-eun, member of girl idol group A-Pink. The title New Face coincides with the inauguration of new President Moon Jae-in. "I made this song some around March and April last year and I had no intention whatsoever. The reason I issued the song today is because I thought people would enjoy the song better now compared to having released it late last year (when the Korea was in a not favorable situation)," Psy said. "I hope (the new president can) help people restore smile lost due to various reasons. It could be presumptuous but I humble ask it as a Korean citizen."
"I once was tempted to quit being a singer because making good songs was extremely difficult," he said. "But I went back to the basics and started to work with a renewed mind." "Last Scene" is a song he made by imagining his end of life." Psy said he regained a renewed mind by asking rapper BwhY to create a trendy rap and while working with him. During this process, his creativity mind revitalized that he decided to expand the originally intended single album into a regular one.
imi@donga.com