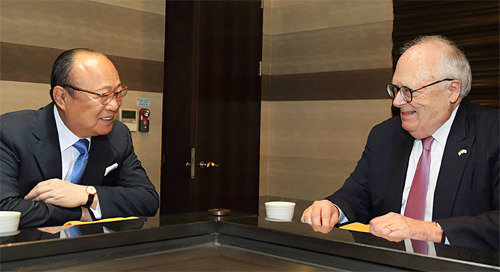 Hanwha Group Chairman Kim Seung-youn met with Heritage Foundation President Edwin Feulner and discussed global business and pending Korean and international economic issues on Tuesday. The Heritage Foundation is the most influential among the conservative think tanks in the U.S.
The meeting between Chairman Kim and President Feulner took place at the Plaza Hotel in central Seoul for about two hours. "Geopolitical situation surrounding Northeast Asia including South Korea is unstable, but I hope that the Heritage Foundation provides support to ensure that the South Korea-U.S. alliance develops further," Kim said.
Kim asked Feulner for advice on various pending economic issues including changes in U.S. economic policy following the inauguration of the Donald Trump administration and the Korea-U.S. Free Trade Agreement. "President Trump is aware of the importance of the South Korea-U.S. relations, and is exerting efforts to improve the ties," Feulner said.
Dong-Il Seo dong@donga.com