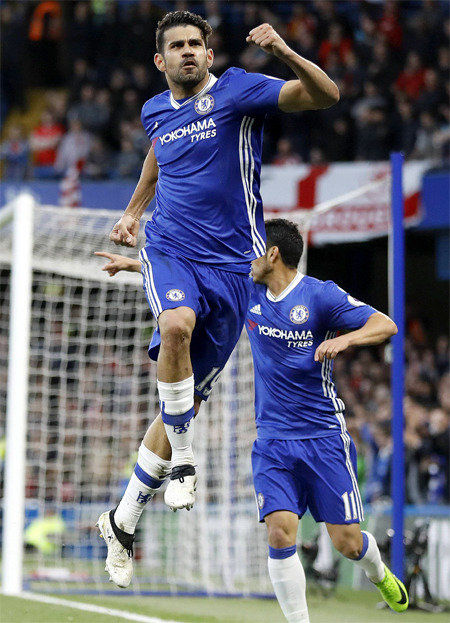 Chelsea of England's Premier League has taken a step closer to the league championship. Chelsea defeated Middlesbrough 3-0 in a home match at Stamford Bridge in London on Tuesday (Korean time). Striker Diego Costa scored the first goal in the 23rd minute, followed by goals by Marcos Alonso (34th minute) and Nemanja Matic (65th minute).
With three games left in the league, Chelsea has garnered 84 points (27 wins, five losses and three ties), widening its lead over Tottenham with 77 points (23 wins, four losses and eight ties). If Chelsea wins just one of the three remaining games, it clinches the league championship for the first time in two years. Coach Antonio Conte said an upcoming match against West Bromwich would be a good opportunity to end the competition for the championship.
Chelsea is leading the league this season with its midfielders' strong pressing defense. Defensive midfielder N'Golo Kanté was voted the 2017 Footballer of the Year by the Football Writers' Association on Monday. He received high marks for effectively blocking opponent strikers with brisk activities on the field. "It is a fantastic honor to win this award", Kanté said. "With so many great players in this Chelsea squad and in the Premier League, for the Football Writers' Association to name me their Footballer of the Year is a very proud moment in my career."
Yun-Cheol Jeong trigger@donga.com