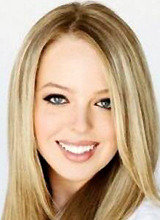 Tiffany Trump, U.S. President Donald Trump's youngest daughter, will attend Georgetown University Law School. The school said Tuesday that she had completed the enrollment process. Georgetown University Law School is one of the top-15 law schools in the United States and is just 15 minutes' drive from the White House.
Tiffany Trump is the only daughter born between President Donald Trump and his second wife, Marla Maples. She graduated from the University of Pennsylvania after majoring in sociology and urban studies.
The New York Times reported that Eric Trump, the U.S. president's second son, has a degree from Georgetown. The eldest daughter Ivanka Trump attended Georgetown for two years. Eric Trump was quoted as saying that Georgetown is an "incredible school" and that he was "so proud of Tiffany," calling her "an amazing young woman, a terrific sister."
When Tiffany Trump was seeking admission to top-notch law schools in the U.S. such as Harvard and Columbia, social media users had a controversy over her benefiting from her father's background.
Hyong-gwon Pu bookum90@donga.com