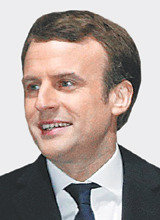 "Unprecedented new political experiment" has just started in France, which has achieved 'election revolution' that overcomes political ideology and the conventional framework of politics. Most watchers say whether French President-elect Emmanuel Macron of the new centralist party "En Marche" who has become the president without even a single parliamentary seat for the first time in French history will succeed or not depends on efficient "cooperative ruling."
President-elect Macron garnered 66.1 percent of the vote to beat the far-right nationalist Marin Le Pen who won 33.9 percent in the second round of the French presidential election on Sunday. "I am well aware that many of you will express anger, concern, and suspicion," Macron said soon after securing victory, stressing, "However, I will exert all my energy to fight against the deepening divide."
Macron spawned new political wind against the corrupt Republican Party and the incompetent Socialist Party by forming a new political coalition dubbed "En Marche" in the latest presidential election. It was an exciting milestone that he has created a year after launching the coalition with 250,000 voluntary members by vowing to display new political experiment that goes beyond the leftist and rightest ideologies. Macron still calls the coalition political movement rather than a political party.
However, majority of watchers predict that En Marche as a new political party will find it difficult to secure 289 seats, or half of the 577 parliamentary seats, in the general elections scheduled next month. In this case, the party has no choice to form a coalition government or kick off "cohabitation" in which his administration will run state administration jointly with the majority party. If his government fails to display the capability to stay in power during a one-month period, he will have no choice but to join forces with a conventional political party that pursues rightest or leftist political ideology. If this happens, Macron's pragmatic "centralist" policy that spearheaded the enactment of rightist-oriented laws under the leftist Socialist Party administration could revert to ideology-centered policy in the course of compromising.
Macron, who is set to announce prime minister and Cabinet members when he moves into the Elysee Palace on May 15, must display his ability to stably manage state administration to the public, and thereby appoint figures who can bring about cooperation from the rightest and leftist groups in order to secure even an extra vote in next month's elections. If his government fails to secure majority seats in the general elections and ends up forming a cohabitation government, prime minister who will be announced on May 15 will see his or her term end in a matter of a month.
"President-elect Macron will feel the need to form coalition with another party to ensure efficient management of state administration," the BBC reported. A French version of extremely challenging journey towards cooperative ruling has just started.
Jung-Min Dong ditto@donga.com