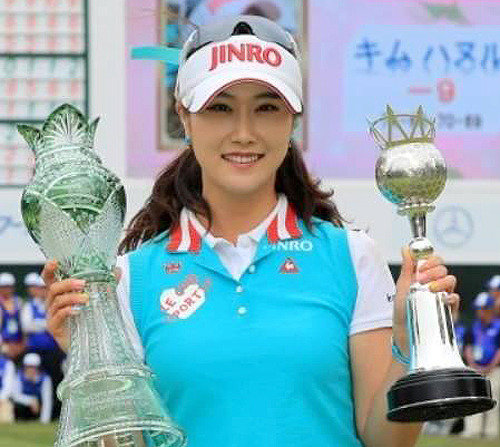 Just as her Korean name depicts, the blue sky smiled brightly for two consecutive weeks. Kim Haneul (Jinro Hite) won one of the major competitions during her Japanese Ladies Professional Golf Association (JLPGA); the World Ladies Championship Salonpas Cup. The win came only a week after she won topped the Cyber Agent Ladies Tournament last week. Collecting a total of five cups during her professional career at JLPGA, she is expecting to cash in 24 million yen (or around 240 million won).
On Sunday, Kim shot a total of 69 hits with three under par, five birdies, and two bogies at her fourth round played at Ibaraki Golf Course (par 72) in Japan. With a final under par at 279 shots, Kim snatched her cup as she shot three less shots than tier-2 groups such as Goh Jin-young and Lexi Thompson. Kim recorded the second two-week consecutive wins at JLPGA, which was first achieved by Lee Bo-mi in 2015.
Since her first appearance in the JLPGA competition in 2015, Kim grabbed her first title at the Munsingwear Ladies Tokai Classics in September that year. In 2016, she also won the AXA Ladies Tournament in March and Ricoh Cup in November. As the Ricoh Cup was the last major competition of the season, Kim set the record of winning two majors in a row. With Kim on the lead, Korean lady golfers have gained a total of five cups among 10 JLPGA Tours open this year.
Heon-Jae Lee uni@donga.com