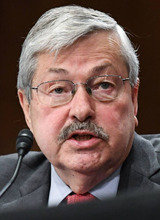 Terry Branstad, U.S. President Trump's choice to be ambassador to China, said Tuesday (local time) that he will continue to press China for cooperation in helping to curb North Korea's nuclear provocation.
"There's other things they can do diplomatically and economically to send a clear signal that they, as well as the United States and other countries in the world, do not tolerate this expansion of nuclear technology and missiles," he told the Senate Foreign Relations Committee during his confirmation hearing on Tuesday local time.
While the remark was a call for China's role in resolving the North Korean nuclear issue, it is also interpreted as a message that China had not played a sufficient role.
Although Branstad, who will likely start for his new post in China in late May, is known as a pro-China politician, he made plenty of remarks that could perplex Beijing or Chinese President Xi Jinping. "The fact that the leader of China calls us an old friend doesn't mean that I'm going to be at all reluctant or bashful of bringing up issues ... be it human rights or intellectual property rights," he said, making it clear that his long-time friendship with the Chinese leader would stop him from protecting U.S. interest.
He also vowed to use his decades-old experiences in exchanges with China to press Beijing to curb North Korea's nuclear development. Branstad added that a secondary boycott would be necessary for Chinese banks or organizations that violate the United Nations sanctions by trading with North Korea. He also pledged to talk with Chinese dissidents and students and invite them to the U.S. embassy.
China's official Huanqiu Shibao newspaper reported that Branstad said the United States did not need a second Korean War and need China's help in resolving the North Korean nuclear issue and changing North Korea's policy.
Branstad, the Iowa governor, has been close with Xi since the Chinese president visited Iowa in 1895 as a local government official. Trump's appointment of Branstad as the next U.S. envoy to Beijing is seen as an expectation that Branstad would use his long friendship with Xi to help ease frictions between Washington and Beijing.
Ja-Ryong Koo bonhong@donga.com