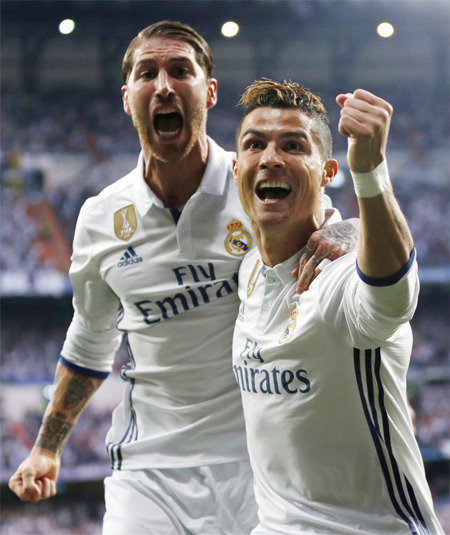 UEFA Champions League (UCL) is called the "stage of dreams." As the currently top team in the English Premier League (EPL), Chelsea failed to win the ticket to the UCL this year, as it finished its last season at the 10th position.
While the next runner Tottenham Hotspurs grabbed the ticket to UCL by ranking at the 3rd place last season, Chelsea has slipped at the group stage. As a league ran as a tournament, only the "strongest of the strongest" survive from the knock-out phase. No wonder Real Madrid forward Cristiano Ronaldo is namely known as the real fixer, as he scored two quarterfinal hat tricks.
In semi-final first leg of the 2016-2017 UCL held in Madrid, Spain, Real Madrid beat its neighboring rival AT Madrid by 3-0 at its home stadium on Wednesday. The goals scored at the 10th, 73rd, and 86th minutes were all netted by Ronaldo.
By scoring 10 goals during this UCL season, Ronaldo is now a goal away to FC Barcelona player Lionel Messi. As Barcelona failed to make it to the quarterfinal, Ronaldo is highly likely to become the best scorer for five times in a row. By recording double hat-tricks during this UCL group stage and a total of seven hat-tricks in UCL matches, Ronaldo is now even with Messi.
Seung-Kun Lee why@donga.com