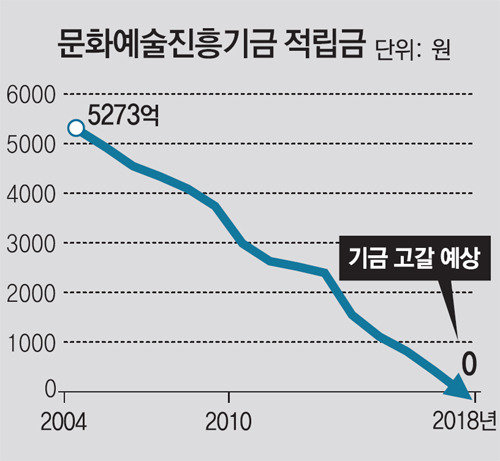 The Korean Arts and Culture Policy Society's discussion session on the upcoming government's culture policy on April 25 highlighted presidential candidates' culture and arts promotion funding pledges. This is because the culture and arts funds are expected to be exhausted by 2018.
Frontrunner Moon Jae-in, former leader of the Democratic Party, and his rival Ahn Cheol-soo, co-founder of the minor opposition People's Party, share almost the same promises of securing culture and arts funds by transferring money from the sports and tourism promotion funds. However, in the past two years, the sports and tourism promotion funds have already channeled 50 billion won (44,21 million dollars) each year to temporarily fund the culture and arts fund. The sports funds executed 347.2 billion won (370 million dollars) for support of the 2018 Pyeongchang Winter Olympics, which spent the historically largest 1.32 trillion won (1.16 billion dollars) so far. The tourism fund has also already executed special funds worth 226 billion won (199 million dollars) on April 25 to support the tourism sector potentially to be hit by the THADD deployment.
The two candidates' plans are far from being a fundamental solution, but a stop-gap one. Liberty Korea Party presidential candidate Hong Joon-pyo, splinter Bareun Party candidate Yoo Seung-min and candidate Shim Sang-jung of the progressive Justice Party don't have pledges on obtaining culture and arts funds.
Hong's support policy for intangible cultural asset holders is also a stunt rather than a real pledge. He laid out education cost support policy for 5,744 intangible cultural asset holders in 136 items, which lacks concrete revenue source plans and has low effectiveness, garnering negative response from recipients.
Jeong-Eun Kim kimje@donga.com