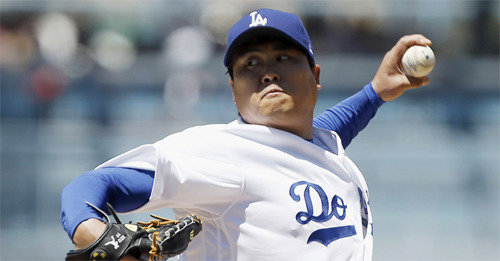 Ryu Hyun-jin of the Los Angeles Dodgers displayed a stable play by banking on nine strikeouts, and successfully garnered his first win of this season in the fifth challenge. In the game against the Philadelphia Phillies at Dodger Stadium on Sunday local time, Ryu gave three hits and three walks, and had nine strikeouts during five and one third of innings to lose one point, becoming the winning pitcher for the first time since Sept. 1, 2014. Dodgers won the game 5-3.
Ryu did not throw the kind of fastball pitches with speeds of about 150 kilometers per hour that he would pitch before receiving shoulder surgery, but he was still very skillful in handling batters. Throwing a total of 93 pitches on the day, the Korean pitcher proactively utilized breaking balls, as he secured four strikeouts through curves and three through changeups. Just as in the game against the San Francisco Giants on April 25, he threw more changeups (37.6 percent) than fastballs (34.4 percent). He garnered two strikeouts through changeups even when facing a crisis with runners on the first and second bases, no outs, and one lost point in the top of the first inning, to eventually get over the crisis.
Ryu managed the game skillfully as well. Having learned that batters of the opponent team were proactively targeting his changeups in the early part of the game, he threw curves as the finishing pitches in displaying flexibility. Reversely, he proactively used fastballs and took advantage of the opponent's weaknesses in the fourth inning. He saw his ERA fall from 4.64 to 4.05.
"Ryu overcame that first misplayed ball to right; he threw the ball well," Dodgers manager Dave Roberts said. "The pitching mix was really good, the change was really good. I thought he pitched well."
Hong-Gu Kang windup@donga.com