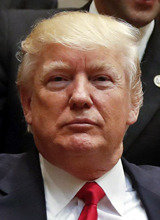 Kim Kwan-jin, chief of South Korea's presidential National Security Office, held a call with his U.S. counterpart Herbart McMaster on Sunday, and reaffirmed the bilateral agreement that the U.S. will pay for the cost for deployment, operation and maintenance of the Terminal High Altitude Area Defense anti-missile system, the South Korean presidential office said. On U.S. President Donald Trump's demand that South Korea play 1 billion U.S. dollars in costs for the deployment of the THAAD system, McMaster explained that the U.S. president made the remarks in general context to convey the American public's desire that its allies share costs, the South Korean presidential office said. "President Trump conveyed a firm message that the South Korea-U.S. alliance is the strongest blood-bonded alliance, South Korea is a top priority in the Asia Pacific region, and the U.S. will stay with South Korea 100 percent.
The message is construed as emergency measure taken by Washington in response to strong objection in South Korea that surfaced after President Trump repeated his demand in an interview with the Washington Times on Friday when he said that it is appropriate that South Korea pays the expenses for THAAD deployment, again after his interview with Reuters on Thursday. Following Sunday's call, which was made at Washington's request, controversy appears to be subsiding for now.
Given that President Trump revealed his perception towards South Korea as a U.S. ally and his unique business negotiation-style diplomacy, his remarks might not be merely a one-off incident but heralds challenges that the incoming South Korean government, which will inaugurate after the May 9 presidential election will face. While emphasizing the importance of the South Korea-U.S. alliance, Trump nonetheless clarified that he will maximize U.S. interests in its relations with South Korea under his "America First" doctrine. Considering the perspective of Trump, who has deployed a massive volume of U.S. strategic assets including the nuclear aircraft carrier USS Carl Vinson to counter North Korea's nuclear threat, the U.S. president may as well demand the South Korean government pay so-called "national security premium" due to North Korean nuclear weapons.
"President Trump's remarks on THAAD are not his slip of the tongue but rather blunt expression‎ of the 'America First' doctrine," said a source in Washington. "In the wake of his remarks, chances are high that President Trump could display his temperament as a negotiator in earnest with regard to issues that entail money between the two countries, including negotiations over South Korea's share of the cost for stationing U.S. troops in the South and renegotiations of the South Korea-U.S. free trade agreement."
ddr@donga.comysh1005@donga.com