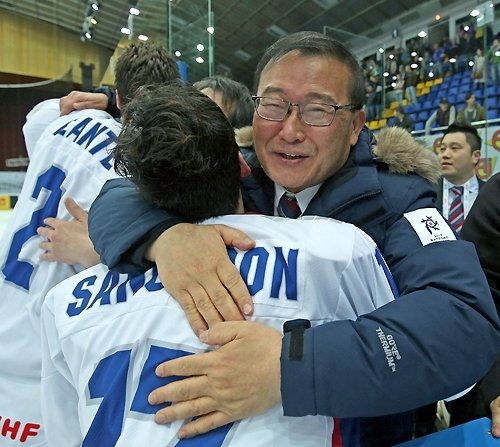 We must mention this man when you explain how South Korean men's ice hockey team was able to achieve historic feat of advancing into the World Championship (Division I). His name is Halla Group Chairman Chung Mong-won and he has been the president of the Korea Ice Hockey Association (KIHA) since 2013.
He founded Anyang Halla (former name of Mando Winia) in 1994. Mr. Chung is commonly known as a big fan of ice hockey. When Halla Group faced a grave crisis in 1997, he remained his hockey team intact even though he decided to sell some highly profitable businesses.
Whenever he was asked why he runs an unpopular sports team for over 20 years, he answered that he has learned the spirit of challenge that "makes impossible possible."
South Korean men's ice hockey players had a chance to learn advanced skills from the Asia League Ice Hockey, an association of professional ice hockey teams from Japan, China, and Korea and of which establishment was led by Chairman Chung. "When the league was established, Japanese players were reluctant to play games with Korean players for reasons of differences in skill levels," said KIHA Executive Director Yang Seung-jun, who was then an employee of Anyang Halla. "In the early days of the league, the Korean team lost games with a big score gap but the gap narrowed each year. We soon caught up with Japanese teams."
The Finland project that Chairman Chung initiated in 2013 was a catalyst for the development of Korean ice hockey. Since 2012, Anyang Halla has deployed 10 players to second league teams in Finland, an ice hockey powerhouse. As Korean players could not get a chance to enter the game, he bought Kiekko-Vantaa (second division team in Finland) in 2013 and allowed players to run on the game to increase their experience in the field.
An idea to include the military ice hockey team named "Sangmu" to the Asia league was a great boost. The chairman persuaded the Defense Ministry and Japanese teams that the military team join the league for three seasons from the 2013-2014 season. By doing so, players could return to the team after they complete their mandatory military service.
The decision to recruit coach Baek Ji-seon as the commander of the Korean national team in 2014 was a brilliant idea. Also, the national team successfully naturalized seven foreign players into Korea, which helped the team to be equipped with best players.
For the past three years, Korea has wiped out Japan, Kazakhstan, Hungary, which the country never won before, and secured an automatic qualification for the 2018 PyeongChang Winter Olympics. Also, South Korean men's national ice hockey team accomplished the splendid feat of entering into top division. The Korean ice hockey team could have accomplished this successful result thanks to patience and consistent investment for more than 20 years.
Heon-Jae Lee uni@donga.com