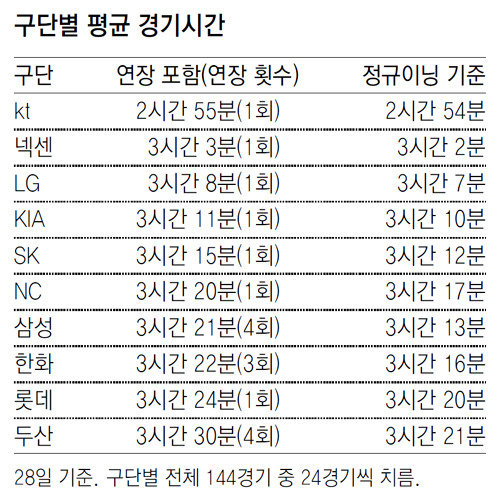 "Cutting the duration of games," the most imperative agenda of modern baseball, is materializing this season. The average total duration of games in the KBO league amounted to 3 hours and 15 minutes (including overtime), down 10 minutes from last year (3 hours and 25 minutes).
Analysts say that the duration of baseball games has declined about 5 percent from last year because it has been affected by a widened strike zone. "The number of strikeouts has increased due to the adoption of a wider strike zone, which in turn has increased the overall tempo of games," a Korea Baseball Organization source said. The number of strikeouts per game stands at 14.48 this season, up about 0.9 from last year (13.53). Video-based judgment, a cut in grace time for replacement of pitchers and pitching warmup have also helped reduce the duration of baseball games a bit. Umpires' judgment through consensus, which took 1 minute and 56 seconds on average last year, is taking an average of 1 minute and 40 seconds on this year thanks to video-based judgment.
Among the 10 baseball teams, the KT Wiz has played the shortest time on average per game (2 hours and 55 minutes), and is the only team that finishes a game within 3 hours. KT finished within three hours in the three consecutive games against the NC Dinosaurs on Tuesday through Thursday. "Since Manager Kim Jin-wook emphasized aggressive play scheme since the spring training camp, our pitchers are also displaying proactive showdowns (with batters). The practice of Manager Kim who tends not to change pitchers often has also affected (cut in the duration of games)," said a KT source.
The Doosan Bears has played games for the longest duration among the teams. Doosan has played 3 hours and 30 minutes on average per game, which is 35 minutes longer than KT. It is largely due to the fact Doosan and the Samsung Lions has had overtime games (4 games), but the team has played games for the longest duration even considering the regular season games alone at 3 hours and 21 minutes. Analysts say this is because substitute pitchers have shouldered bigger burden of pitching while foreign pitchers including Dustin Nippert and Michael Bowden were on leave in early days of the season, and because its batters have had more walks (93) than other teams.
Hong-Gu Kang windup@donga.com