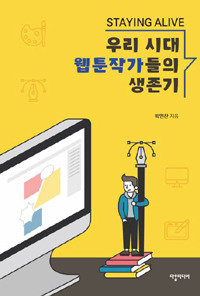 Q. Isn't it hard or feel burdened when you get low reader's rating?
A: Not at all. A basketball player can say that the game went well as audiences cheered him up. However, I believe that it is a matter of how good he is in the basketball court that determines win and loss. If he wants to be applauded, he should be on a singing competition show such as Superstar K (by Hatzling, webtoon writer).
Webtoon writers are enjoying their golden ages. Lee Mal-nyeon, Yoon Tae-ho, Jo Seok, Gian84… They are famous as much as entertainers. You don't have to look at their webtoon as you can easily find that many movies and dramas are made based on their stories.
This book contains stories of 24 webtoon writers that the author interviewed face-to-face. They came from different backgrounds: a fresh graduate from university, veteran webtoon writer as well as former published cartoonist, someone who studied the zodiac sign and humanities… The author said he started to compile interviews of webtoon writers as he wanted to present stories behind webtoon writers to their fans or people who aspire to be a webtoon writer. This book gave answers for questions that ordinary readers want to know such as whether the webtoon writer takes part in drama when his work is made into a drama, or how the writer reacts to vicious replies. Also, some Q&As cover subjects for would-be webtoon writers such as "Are webtoon writers financially unstable?" or "what kind of tool do you use to draw your webtoon?"
It does not mean that such stories bring interest of would-be webtoon writers only. This book also contains their struggles to be beloved webtoon writers after going through a difficult phase. Readers can find some noteworthy advices, such as "Diligence gave me a second chance" by Oh Young-seok and "A webtoon writer should not be contented with his cartoon. Enjoy a different life" by Lee Jong-beom.
In June last year, the author published a book titled, "I Can Be a Webtoon Writer," which explains how to produce an animation and draw a webtoon using "Harmony" presented by Toon Boom Animation, an animation and storyboard software supplier. He is now posting interview series of webtoon writers, who are currently drawing webtoon, on Facebook page @webtoonharmony for would-be webtoon writers.
Sun-Hee Jang sun10@donga.com