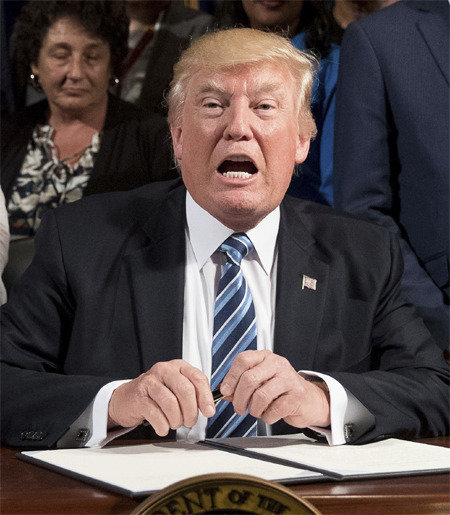 U.S. President Donald Trump said the Terminal High Altitude Area Defense (THAAD) system, which is being deployed in Seongju, North Gyeongsang Province, was "a billion dollar system." "I informed South Korea it would be appropriate if they paid," Trump added.
In an interview with Reuters at the White House on Thursday (local time), Trump said, "Why are we paying a billion dollars? We're protecting. Nobody's going to do that."
When asked about free trade agreement with South Korea, Trump said, "It's unacceptable. It's a horrible deal. And we're going to renegotiate that deal, or terminate it."
Trump repeatedly highlighted five times during the 42-minute interview that South Korea, not the U.S., has to pay for the missile defense system in South Korea. He even hinted at previous negotiations with South Korea about the payment by saying he has already informed it to South Korea.
On the other hand, the South Korean government has flatly denied any previous suggestions from the U.S. about the payment for the THAAD system. "South Korea will provide land and infrastructure and U.S. will be responsible for purchase, operation and maintenance costs for the defense system per regulations of the Status of Forces Agreement (SOFA)," said officials at the Ministry of National Defense of South Korea, refuting Trump's claims.
Political parties and presidential candidates have reacted differently to Trump's claims about the payment for the THAAD system. Moon Jae-in of the Minjoo Party said, "It has become crystal clear that from the beginning, there had been a major flaw in decision making about deploying of THAAD in South Korea." Shim Sang-jung of the Justice Party said, "THAAD should be returned."
In the meantime, Ahn Cheol-soo of the People's Party, Hong Joon-pyo of the Liberty Korea Party and Yoo Seung-min of the Bareun Party, who are all supporting THAAD in South Korea, have emphasized that we must keep the existing agreement.
ddr@donga.com · weappon@donga.com