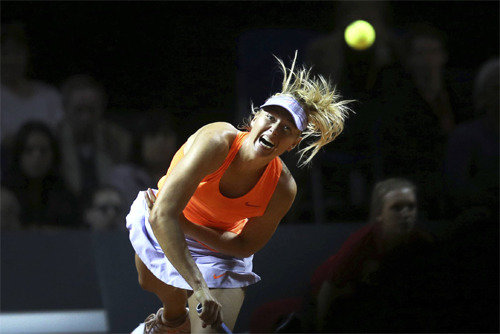 Tennis player "Russian Beauty" Maria Sharapova decorated her return match. Following 15-month doping ban, Sharapova won a complete victory over Italian Roberta Vinci, the world No 36, at the first round of the singles match at the Women Tennis Association Tour Porsche Tennis Grand Prix held in Stuttgart, Germany.
In January 2016, the Russian tennis star was diagnosed as positive at the doping test (administering drugs for better competency) held during the Australian Open. After the mediation process held at the Court of Arbitration for Sport, she had been banned for 15 months until Monday under the decisions made by the International Tennis Federation.
As the organizing committee of the tour, Porsche provided various favorable treatments for their sports car advertising model Sharapova. History shows that the event was held on third Monday of every April, but the Grand Prix was postponed for a week to the fourth Monday, on April 24. The belated opening even pushed down the world rank of German Angelique Kerber (6,925 points), as her 470 ranking points from last year's competition dissolved and gave way to Serena Williams (7,010 points) as the world No. 1. Tennis players are ranked based on their recent 52 weeks (or a year) of performances.
The organizing committee changed the first round to Wednesday, instead of splitting the games on Mondays and Tuesdays. As a result, the committee opened doors for Sharapova to play a day after she was lifted from the ban. Indeed, favorable treatments were made from the very start, as she made her way to Stuttgart after winning a wild card for special racing card. After being banned from the courts for 15 months, she lost all of her ranking points.
The issue at hand is the possibility of another wild card given from the France Open organizing committee, where the "major competition" takes place next 28th. At the current time, the prevailing view is that Sharapova will be given a wild card for preliminaries, instead of the final matches where 128 contestants vie for the cup. The organizing committee plans to make its announcement by May 15.
However, a different scenario will unfold if Sharapova makes her way to the finals at the Porsche Grand Prix. If so, she will be accumulating 305 points, and will be able to list her name as the top-170 players at the least. By reaching to the finals, Sharapova can enter the France Open preliminaries without a wild card.
Kyu-In Hwang kini@donga.com