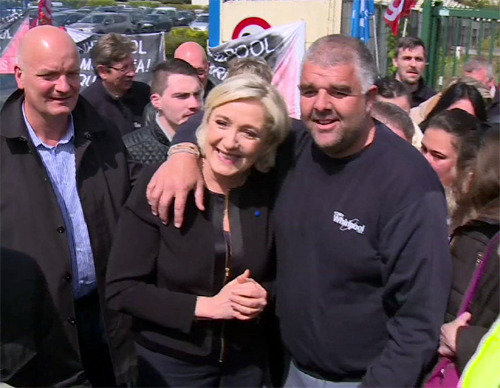 "Everyone knows what side Emmanuel Macron is on – he is on the side of the corporations. I am on the workers' side."
In her surprise visit to the Whirlpool home appliances plant in northern city of Amiens on Wednesday, Marine Le Pen of the far-right National Front party made a strong attack against Emmanuel Macron of EN Marche!, a social-liberal political party founded in 2016.
As Whirlpool has decided to move its factory to Poland, some 290 workers in the Amien factory are now faced with losing their jobs. Taking selfies together with workers in the factory's parking areas, Le Pen vowed that if she becomes the president, the Amien factory would never shut down.
At the same time, Macron who was born in Amien was talking with union representatives of the Whirlpool factory in the chamber of commerce building, which was pre-arranged open schedule for his campaign. Informed of Le Pen's unannounced appearance, Macron hurriedly went to the factory only to be greeted by angry workers who booed and jeered at him shouting "President Marine Le Pen." It was Macron's complete defeat in an abruptly-arranged presidential battle in Amien.
Le Pen, who is currently lagging behind Macron four to six, has chosen the strategy of following Trump to make a dramatic reversal. As a presidential candidate, Donald Trump makes use of dichotomy to divide people into two parties so as to gather his supporters. He also sends easy-to-understand and clear message to his major supporters of less educated low-incomers.
Le Pen's presidential camp said in an interview with Politico Europe on Wednesday that the best election strategy is to highlight the difference between Le Pen on the side of laborers and Macron of globalism, adding that she's adopting Trump's strategy. Le Pen is mainly supported by people in low income and less educated bracket. Her father, Jean-Marine Le Pen who led the National Fount party, also said on Tuesday that he would use Trump's campaign strategy if he were in his daughter's shoes.
It remains to be seen if Trump's strategy is also effective in France, however. As French people have such a strong antipathy toward Trump regardless of ideology and social class, Le Pen cannot openly announce that Trump is her role model. On top of that, if she limits her main target only to workers and laborers, it can work as an obstacle in expanding her approval ratings to secure majority vote.
Jung-Min Dong ditto@donga.com