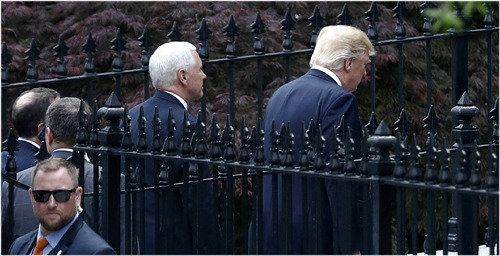 The Donald Trump administration has officially declared its position on the North Korean nuclear issue, putting top priority on pressuring Pyongyang into dismantling its nuclear and missile programs through economic sanctions and diplomatic measures. Although the U.S. administration did not mention any military measures including a pre-emptive strike on the North, it suggested that it would consider a military option as a last resort. It seems that the North Korean nuclear issue that escalated to a near-crisis situation has entered into a long-term phase.
The Trump administration held a briefing on North Korea policy on Wednesday (local time) for all members of U.S. Congress.
"The president's approach aims to pressure North Korea into dismantling its nuclear, ballistic missile, and proliferation programs by tightening economic sanctions and pursuing diplomatic measures with our allies and regional partners," Secretary of State Rex Tillerson, Secretary of Defense James Mattis and Director of National Intelligence Dan Coats said in a joint statement. "The United States seeks stability and the peaceful denuclearization of the Korean peninsula. We remain open to negotiations towards that goal. However, we remain prepared to defend ourselves and our allies."
U.S. Pacific Command Commander Adm. Harry Harris Jr. told a House hearing on the same day that there are military options in all directions including deployments, pressure and maneuvers and even a pre-emptive strike. He stressed that if left alone, North Korean leader Kim Jong Un will become capable of carrying out what he has said he would do.
Seung-Heon Lee ddr@donga.com