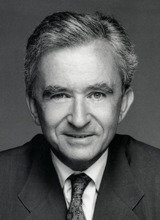 LVMH Moët Hennessy Louis Vuitton Chairman and chief executive officer Bernard Arnault, who inherited his father's construction company, acquired the Boussac group, the parent company of Christian Dior in 1989 at the French government's request. After that, he became a luxury goods mogul by taking control over some 70 luxury brands including Louis Vuitton, Céline, Fendi, Givenchy, Marc Jacobs, Bulgari and Hublot. People close to him say that Dior is "like Arnault's baby." After launching the LVMH group in 1987, he has been expanding his empire in the global luxury market through large-scale mergers and acquisitions.
On Tuesday, Arnault completed his reign in the luxury world by announcing a decision to take full control over Dior. LVMH announced that it acquired 25.9 percent of Dior for 12.1 billion euros (13.1 billion U.S. dollars). As LVMH had already owned 74.1 percent of Dior, the deal would give it ownership of the Christian Dior haute couture, leather, men's and women's ready-to-wear, and shoe businesses. The acquisition would also increase the Arnault family's share in LVMH from 36 percent to 46 percent.
After the announcement, Dior's share prices surged by 11 percent in the European stock market on Tuesday, while LMVH stocks also gained by 3.94 percent. According to Forbes on Tuesday, Arnault, the richest man in France, has become the eighth wealthiest in the world, with assets of 51 billion dollars.
Jung-Min Dong ditto@donga.com