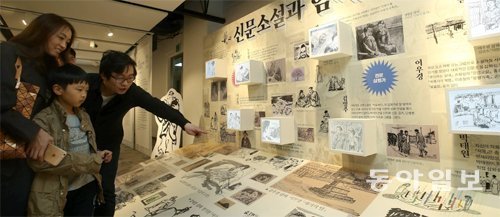 An exhibition that displays the first installment of Sangnoksu (Evergreen Tree) of Shim Hun (1901-1936), a novel famous for the "Go to the people" movement that was initiated by the Dong-A Ilbo in the 1930s.
The National Library of Korea will hold an exhibition titled "The Joy of Daily Reading – A Serial Novel in a Newspaper Popular among Readers" on the first floor of its headquarters in Seocho District, Seoul, through June 18. "Sangnoksu" was selected in a literature competition celebrating the 15th anniversary of the foundation of the Dong-A Ilbo.
The novel was serialized by the newspaper between Sept. 10, 1935 and Feb. 15, 1936. Illustrations were contributed by Lee Sang-beom (1897-1972). The newspaper was stored in the archive of the national library. The original version will be exhibited until April 28 for preservation purposes and a carbon copy will be exhibited afterwards.
Modern novels such as "Tears of Blood (Lee In-jik, 1906)," "Mujeong (Lee Kwang-su, 1917)" and "Madame Freedom (Jeong Bi-seok, 1965)" were created along with newspapers. "Newspapers is a place for hard training that make writers stronger and is Carnegie Hall where unknown singers are debuted as prima donnas," said author Choi In-ho (1945-2013) who gained popularity with serial novels in a newspaper.
The exhibition will help visitors to see some 110 years of history of serial novels in newspapers at a glance. It also introduces illustrations included in novels, and dramas and movies based on newspaper novels with hands-on experience activities for visitors.
Jong-Yeob JO jjj@donga.com