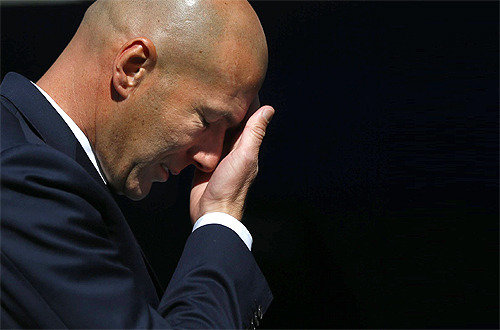 Spanish media Marca conducted a survey in November last year asking "when was Real Madrid the most powerful during the last 20 years." Most people responded that it would be this season led by Zinedine Zidane. Back then, Real Madrid scored successive victories and remained on top.
The situation reversed in five months, however. Zidane, once having enjoyed absolute trust, is on a decline. On Monday, FC Barcelona showed an effective performance at El Clasico thanks to Lionel Messi's two goals, stealing a win from Real Madrid at 3-2.
Spanish media Ars said Tuesday that Real Madrid could replace Zidane, adding if he ends this season without a trophy, Germany coach Joachim Löw could be brought in. The media also included Chelsea manager Antonio Conte and Tottenham Hotspur head coach Mauricio Pochettino as likely candidates. Real Madrid replaced then head coach Carlo Ancelotti when the team remained at second place at the 2014-2015 season, failed to qualify for semifinals at the UCL and had to remain satisfied at round 16 in Copa Del Rey games. In the 2015-2016 season, Real finished in second place in the league but won the UCL. That was only five months after Zidane became the new head coach.
Real ranked second as it lost Monday. It scored 75 points, the same with FC Barcelona, but had to give away first place to Barcelona due to the rule that a team who gained more victories win. However, there is room to make a reversal. Real Madrid can regain top position if it plays a tie in the league since it played one game less that Barcelona. Real Madrid is also playing with its regional rival Atletico de Madrid at the UCL in semifinals. If he wants to survive, Zidane must win one of the two between the league and UCL.
Seung-Kun Lee why@donga.com