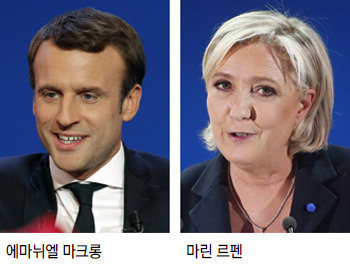 In the first round of the French presidential election on Sunday (local time), Emmanuel Macron, head of the political movement En Marche! (Onwards!) topped with 23.8 percent, followed by Marine Le Pen with 21.51 percent. They will face off in the second round of the presidential election on May 7. According to a poll from French polling firm IPSOS, Macron is expected to claim a landslide victory with 62 percent over Le Pen (38 percent).
The 39-year-old political novice had been largely unknown until he was appointed economy minister three years ago. His own political movement En Marche!, which he set up in April last year, has no lawmaker. It is the first election for himself. A craze for a political and administrative novice represents a strong desire for new politics among the French people.
His emergence instilled a wave of pragmatism into the presidential election that used to be a venue of ideological confrontations. When he declared his running for presidency, he said that same people – left or right - governed the country for decades, and their model failed. He added that France should take the lead in the digital, environmental, technological and industrial revolution across the world beyond ideologies.
While conservative candidates including Le Pen and Francois Fillon stressed "security," Macron emphasized the "economy." He pledged a small government reducing jobs in the public sector and said he would use the resources in employment and vocational training for young people. Though he was economy minister of the left socialist government, he passed the "Macron Act," a business-friendly law allowing stores to open at night and on Sundays and ease regulations in labor. He also pledged to reform politics, namely reducing the number of MPs, and is also testing grass root politics by inviting public participation in selecting candidates for the legislative election in June.
Jung-Min Dong ditto@donga.com