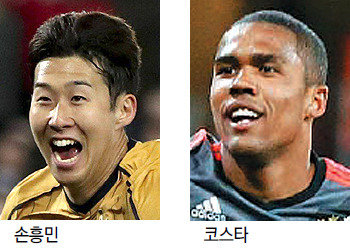 Even after pulling off goals in four games in a row, Son Heung-min (25), the forward of the Tottenham Hotspur, has yet to prove his mettle. It has been reported that his team is considering the recruitment of another attacker in Son's position.
The Mirror, a British newspaper, reported on Thursday that the Hotspur is interested in a £30 million move for Bayern Munich winger Douglas Costa. The newspaper said the London-based football club is ready to offload Moussa Sissoko, who proved himself to be disappointment after joining Tottenham before the kickoff of 2017 season for £30 million, the tie-record for the most expensive transfer deal for the Hotspur.
The Mirror argued that Tottenham, who were eliminated in the group stage for the UFEA Champions League (UCL) this season, needs someone with the UCL experiences such as Douglas Costa in order for the English team to succeed next season. Appearing in 54 UCL matches, Costa has found 10 goals and managed 14 assists. In the second away match against Arsenal on April 8 for the best of 16 round, the Brazilian found the net, making vital contributions to his team's easy 5-1 victory.
Left winger as he is, Costa will pose an immense pressure to Son Heung-min. Son was often hired as winger in the left side to support the main striker Harry Kane (24). However, others say that recruiting Costa would not be easy as his contract with Munich is bound until 2020. The owner of Bayern Munich dismissed the rumor as an attempt to get more money, adding that it will achieve little effect. Costa responded, saying, "A number of teams are in contact from England, Spain, and France. Once Munich accepts the deal, and the team who want me will pay the money for transfer, and the matter will be over."
Son Heung-min is getting ready for the FA Cup semifinals against Chelsea F.C. on April 23 in a bid to score his 20th goal this season, which would make him the most prolific Korean footballer ever to have played in European league.
Seung-Kun Lee why@donga.com