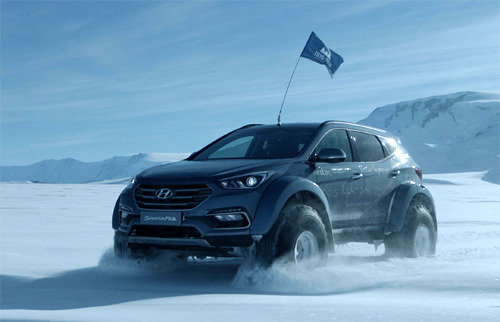 Hyundai Motor Co. has successfully completed it's a month-long Antarctic crossing project with a modified version of its Santa Fe sport utility vehicle (SUV). The South Korean carmaker has also launched a global brand awareness campaign by using video clips of the expedition.
Hyundai unveiled on Thursday a brand campaign video entitled "Shackleton's Return," which shows Patrick Bergel, the great grandson of Irish-born British explorer Sir Ernest Shackleton, successful Antarctic crossing. Shackleton embarked on an Antarctic crossing expedition in 1914 before his ship got trapped in ice and sank. In the end, he saved all of his 27-member crew and returned home. Over a century later, Bergel, his great grandson, made the 5,800-kilometer return trip from the Union Glacier camp to McMurdo Station in December on a Santa Fe.
The SUV, based on the commercial 2.2-liter diesel-fueled model, underwent modifications to battle the extremely low temperatures of the South Pole, including the fitting of 30-inch ultra-low-pressure tires, a larger fuel tank for airplane fuel, and a pre-heating system to prevent ignition failure in extremely cold. Hyundai stressed that despite the modifications, the vehicle's engine and transmission remained the same.
Hyundai said the Antarctic crossing project was based on the company's philosophy of "cherishing customers' dreams beyond the limits of time and space." In 2015, Hyundai conducted a project to help a teenage girl to send a message to her astronaut father hovering in space by using 11 Hyundai Genesis cars to replicate the girl's message with tire track images on Nevada's Delamar Dry Lake that were large enough for her father to see from his lofty post.
Woo-Shin Han hanwshin@donga.com