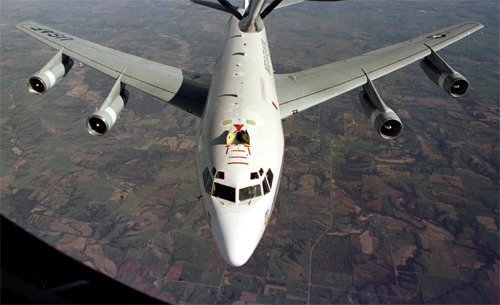 Speculation is raised that yet another nuclear provocation by North Korea is imminent, with a special reconnaissance plane from the U.S. air force tasked with detecting signs of a nuclear test from the North being scrambled to the East Sea of the Korean Peninsula.
According to the South Korean military authorities, a Boeing WC-135 Constant Phoenix took off at the Kadena Air Base in Okinawa, Japan, on Thursday morning, zooming in a hurry towards the East Sea of Korea. "Our understanding is that the WC-13 reconnaissance plan has embarked on the activities in preparation for a nuclear test in North Korea," said a military source.
The main task of the surveillance vehicle is to detect the trace of artificial radioactive matters (nuclide) dissipating into the atmosphere after nuclear tests. The aircraft is also capable of identifying what types of nuclear bombs (uranium or plutonium bombs) were used in the test by analyzing the types and proportions of nuclear materials. It was also a WC-135 Constant Phoenix that captured the radioactive materials in the East Sea after Pyongyang conducted their first nuclear test in October 2006. From the second to the fifth test, however, the special-purpose aircraft could not identify the radioactive materials. The vehicle is capable of flying 640 kilometers per hour at the maximum altitude of 12 kilometers and boarding 30 or so crew members and expert analysts for special missions.
The military authorities explained that the WC-135's presence in the East Sea indicates a high possibility of a sixth nuclear test by the communist regime. In fact, words began to circulate in and out of the military that "Signs of an imminent test were detected" and "The North made an announcement about its sixth nuclear test to China," sending the officials of the ministries of Defense and Foreign Affairs investigating about the rumors.
"The Punggyeri site appears ready for a nuclear test anytime upon the order from Kim Jong Un, the First Secretary of the Workers' Party," said an official from the defense ministry, adding, "We are closely monitoring the developments in the North in preparation for any potential nuclear provocation around April 25, the Military Foundation Day of North Korea."
Sang-Ho Yun ysh1005@donga.com