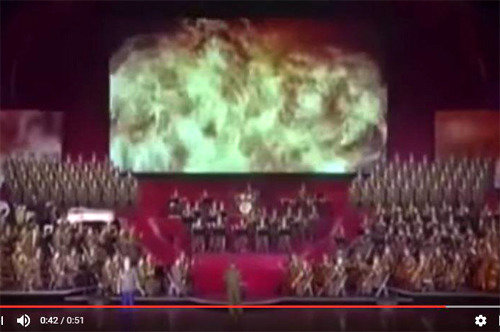 A new North Korea video has shown dozens of imaginary North Korean ballistic missiles flying cross the Pacific Ocean and leaving a U.S. city and the Starts and the Stripes in flames, with North Korean soldiers cheering at the scene.
The 50-second video clip was featured on the global video sharing service YouTube and the websites of major U.S. media outlets, including CNN and the Washington Post on Wednesday. It was originally unveiled at a recent musical performance in Pyongyang in honor of the North's late founder Kim Il Sung on his April 15 birth anniversary. A large screen on the stage showed the video of the imaginary North Korean missile attack on the mainland U.S.
U.S. media reported that the mock video was a North Korean propaganda clip showing the communist state attacking the U.S. with nuclear missile in "World War III" and that the missiles in the video appeared to be the recently test-launched intermediate range ballistic missile Pukkuksong-2. They also reported that North Korean leader Kim Jong Un was "very satisfied" with the video.
The clip, which was uploaded on to YouTube with the title "Unbelievable North Korean Performance Depicts Destruction of USA Using ICBM," has garnered more than 270,000 views as of April 20. Many viewers who appeared to be Americans called the video "madness of lunatics."
The Washington Post reported that there were mock videos showing North Korea leveling the U.S. continent with nuclear missiles in 2013 and 2015. The daily also said that this time, the Trump administration has officially declared that "the era of strategic patience is over." U.S. Vice President Mike Pence visiting Asia also warned Pyongyang, saying, "The United States of America will always seek peace, but under President Trump, the shield stands guard and the sword stands ready."
Hyong-gwon Pu bookum90@donga.com