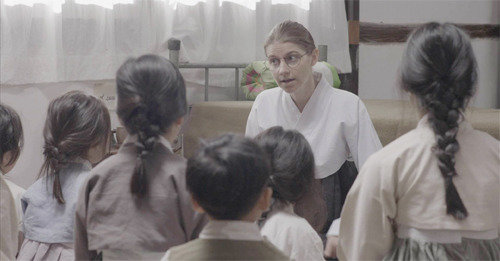 A documentary movie of German-American missionary "Suh Suh-pyoung, Slowly and Peacefully" co-directed by Hong Joo-yeon and Hong Yeon-jeong will premiere on April 26. As a medical missionary of Presbyterian Church in the United States, Elizabeth J. Shepping came to Korea in 1912 and received her Korean name "Suh Suh-pyoung" and died in 1934.
Arriving in Joseon at the age of 32, Suh fed and taught orphans, widows, and lepers who even the Joseon people disregarded at that time. Even in her last moments when she suffered from endemics and malnutrition, she donated her corpse for medical science purposes.
Producers followed her life for over a year, visiting from Wiesbaden, Germany and New York, the U.S. to the Jeolla provinces and Jeju Island of Korea. "Koreans used to highlight the lives of male or famous missionaries," said director Hong Joo-yeon. "This film vividly portrays the process of a human who spiritualizes her own suffering and agony." The film was narrated by actor Ha Jeong-woo.
Sun-Hee Jang sun10@donga.com