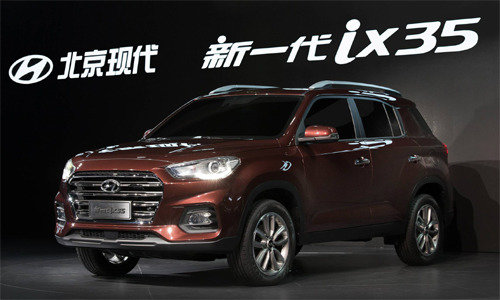 Hyundai Motor and its sister carmaker Kia Motors, South Korea's two biggest automakers, have unveiled strategic sports utility vehicle (SUV) models targeting Chinese consumers at the 2017 Shanghai Auto Show, as part of their efforts to overcome its sagging sales in the Chinese market and Beijing's retaliatory measures against Seoul's decision to deploy a U.S. Terminal High Altitude Area Defense (THAAD) battery in South Korea.
At the auto show on Wednesday, Hyundai unveiled the ix35 sport utility vehicle and the facelifted version of the Sonata mid-size sedan designed for Chinese consumers. Developed as a practical, family-oriented SUV, the ix35 features a roomy interior. Its front boasts Hyundai's cascading grille and is driven by a 1.4-liter gasoline turbocharged engine or a naturally aspirated 2.0-liter petrol mill. The All New Sonata is the localized version of the upgraded Sonata New Rise sedan, which was launched in South Korea last month. The sedan features some changes in the grille and other parts to cater to Chinese consumers' tastes.
Kia also disclosed the K2 Cross small crossover vehicle and the Pegas compact sedan on the same day. The K2, which will debut in China in the second quarter of this year, targets the rapidly growing SUV market and features a unique design and various convenience features. The Pegas targets young drivers in China, boasting a practical interior space and a trendy design.
Hyundai and Kia saw its sales in China plummet by 52.2 percent in March from the same period two years ago. A Hyundai official said the company will try to boost sales by introducing the new vehicles and adopting a localized marketing strategy.
Eun-Taek Lee nabi@donga.com