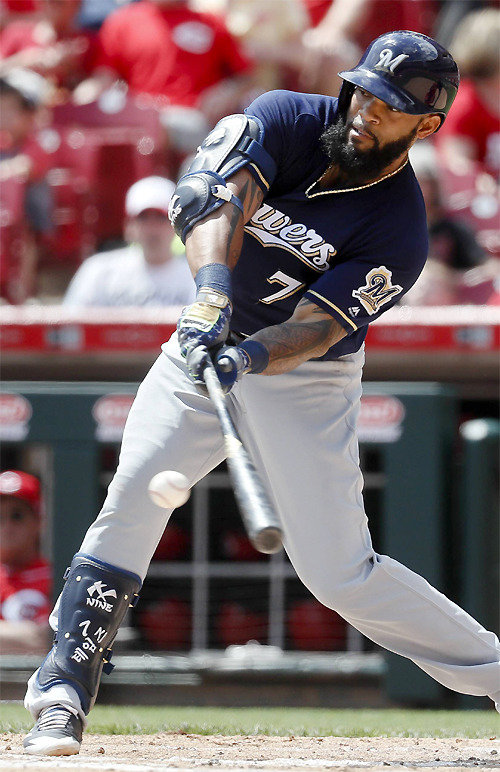 As he has gained momentum in performance, he is unstoppable. Milwaukee Brewers first baseman Eric Thames, who previously played in the Korean league, has had homers in five consecutive games to rank first overall (seven) in the Major League homerun rankings.
He has become arguably the best "re-export" produced by Korean professional baseball. Thames recorded a batting average of 0.349, 124 homers and 382 RBIs overall while playing for the NC Dinosaurs of the Korean league from 2014 to 2016, before returning to the Major League ahead of the current season.
Thames started as second batter and first baseman in an away game against the Chicago Cubs of the Major League at the Wrigley Field in Chicago, Illinois on Monday. In the top of the third inning when took the batter's box first, he outwardly swung a cutter pitched by Chicago Cubs starting pitcher John Lackey to hit a homer over the left side fence. He has posted a homerun in five consecutive games to tie for first overall in most homers hit in consecutive games in his team, which was set by Jeromy Burnitz in 1997.
In addition to homeruns, Thames ranks first in OPS (On base Plus Slugging) at 1.479 in the entire Major League. He had three hits in four times at bat on the day to elevate his batting average to .405 (ranking third in the Major League) in this season. He is also tying for fifth in overall RBIs in the big league by posting 12.
Thames, who returned to the Major League after a four-year absence, has had a successful soft landing there primarily because he is strong in hitting fastballs. He has a batting average of .429 thus far by swinging on fastballs pitched by rival teams' pitchers.
What is more promising is that he has been affected little by high speeds of pitches. Pitches that pitchers threw in their showdowns with Thames in Korea last year were 142 kilometers per hour on average. The speed of pitches he now encounters in the Major League this year increased to 150 kilometers per hour on average. He is swinging confidently as if a difference of 8 kilometer/hour in ball speeds does not matter much. He garnered five of his seven homers by swinging on fastball type of pitches.
Another change he has made is that he came to know how to fly his hits. In 2012, the last year he played in the Major League before joining the Korean league, 37.1 percent of his hits were fly balls, but the portion of his fly balls increased to 48.1 percent in this season. If one fails to fly a hit, he might be able to elevate his batting average but cannot hit homers.
As Thames has hit a flurry of hits in successive games, he is in the spotlight of the U.S. media. MLB.com carried a report on Thames' homer as the top story on its homepage, while CBS Sports said that Milwaukee's recruitment of Thames was truly a windfall.
"In Korea, I learned the Zen philosophy that if I concentrate on small things, I can achieve a big thing," Thames said. "Thanks to this I have paid less attention to outcomes, and as a result, I see my performance improve."
Kyu-In Hwang kini@donga.com