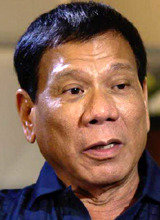 Philippine President Rodrigo Duterte, a politician infamous worldwide for his use of abusive language, has taken a surprise lead in an online readers' vote for Time magazine's "100 Most Influential People in the World."
Time magazine said the outcome of its readers' survey, which closed Sunday night (local time), suggested that President Duterte received the most votes of 5 percent. Since his inauguration in June last year, Duterte proclaimed a "war on drugs" and gained great support from the Philippine people, but has been constantly under controversy over human rights abuses as he has killed a flurry of drug suspects without trial. When then U.S. President Barack Obama raised the issue with human rights abuse in the Philippines last year, he responded by calling Obama "son of a bitch," causing a stir.
President Duterte was followed by Canadian Prime Minister Justin Trudeau, Pope Francis, Microsoft founder Bill Gates, and Facebook CEO Mark Zuckerberg, who ranked second with about 3 percent approval rating each. The magazine will announce the final result of the poll together with opinions of its publishers on Thursday.
In-Chan Hwang hic@donga.com