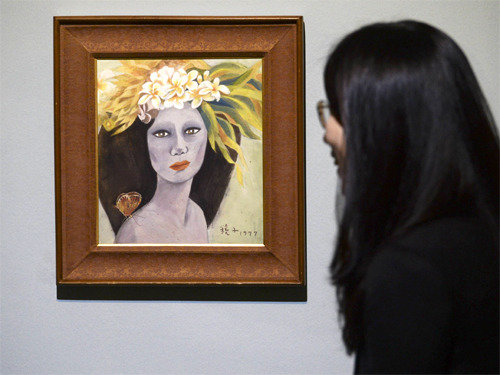 The Portrait of a Beauty, which was controversial over authenticity, has been unveiled on Tuesday. It is in 27 years since the special exhibition at the National Museum of Modern and Contemporary Art in 1990, and in 26 years since late painter Chun Kyung-ja raised a suspicion that it was forged in 1991.
The National Museum of Modern and Contemporary Art held a press conference at the Gwacheon Hall on Tuesday and introduced around 100 pieces exhibited at the collection exhibition titled "Rupture" including the Portrait of a Beauty. The portrait, which drew attention, was hung on the wall behind a bullet-proof glass without the painter's name on it. It is a colored painting on 29 cm x 26 cm rice paper.
Instead of revealing information on the painting, the museum posted guidance: "The release of the piece is neither to decide authenticity nor to make a specific conclusion. Instead, the museum had a need to guide a public discussion by opening it to the public in a transparent manner as much as possible from a neutral point of view. It also exhibited various other supporting document as well as articles on the history of the authenticity controversy.
Park Seong-jae, a lawyer and advisor to the museum, said with regard to not identifying the painter's name, "We considered the situation that the bereaved family raised issues over moral rights, public exhibition rights, and moral rights of authors under the copyright law." The lawyer said, "While the museum still thinks it is authentic, it decided not to clearly identify the name of the painter due to the legal dispute, its care for the bereaved family and its position not to increase and reproduce the controversy
With the start of the forgery controversy, the portrait was stored in the National Museum of Modern and Contemporary Arts. Few experts saw the painting for themselves. Prosecutors claimed that the portrait is real in December last year, the bereaved family was against the idea and has appealed to the higher court.
Visitors can access the portrait from Wednesday. Museum admission is free.
Jee-Young Kim kimjy@donga.com