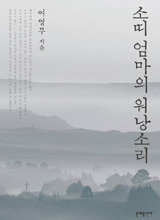 "The most soft and familiar word in the world is mother."
Yeo Yeong-moo (81), head of the Liberty Club, recalled his feelings for his mother as above. His book titled "Cowbell Sound by My Mother Who was Born in the Year of the Ox" was recently published by Moonye Books. His mother was born in 1913, the year of the Ox, and she was called as a wife and a mother and sacrificed her entire life until she passed away. Thinking of mother, her son felt the warmth, coziness, and peace as if he put on a cotton-stuffed blanket.
The author wrote this essay for the reminiscence of his mother. He said he made his mind to write the book as he wished to describe her years of perseverance so that she could be reborn as the great mother of an ordinary person. However, it was not all of personal memories. He described modern Korean history as well while writing about his mother. Hence, the life of his mother and modern Korean history are the warp and woof of his book. In the memory of his mother, trajectories of modern Korean history from Japanese colonial era, restoration of independence, the Korean War, industrialization and democratization to today's Korea as we know it are all included.
He was the eldest son in his family, and his mother stopped breastfeeding him late as she loved him so much. She was deeply interested in his education. In his fourth grade of Daegu Soochang Elementary School during the end of the Japanese rule, he issued a school leaving certificate (which had a similar meaning to expulsion from the school.) When she heard the news, she shed tears on the toenmaru (outer porch). Then, she smiled sitting there at the news that he was accepted to the middle school of commerce in Daegu. The son wrote that he remembered vividly her smile and tears on the same toenmaru.
She was a tenacious mother against severe hardships while raising her children, but she became weak in her old age. He felt sorrow when he saw his mother asked and acted like a child by saying, "When will you come back to see me?"
The author said that he thought over how individuals could go back to the basics and purify the world of chaos with many events such as controversy over silver spoon and scrapper, maddening terrorist violence of Islamic State (IS). Then, he came up with a conclusion that mother's love was the answer.
A harmonious family and humanistic education are essential and they should be nurtured based on profound love such as material affection. One's state of mind that desires to resemble such affection will be the base that softens the tough world.
Jee-Young Kim kimjy@donga.com