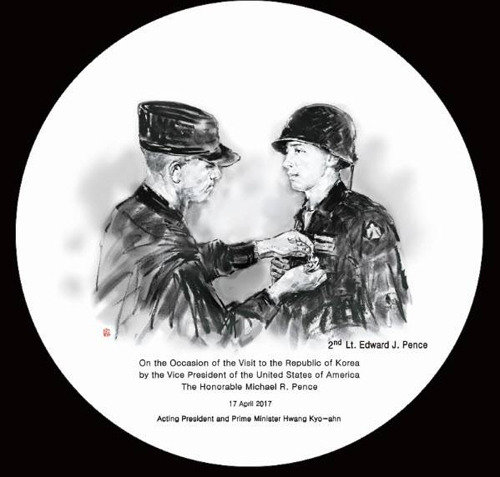 U.S. Vice President Mike Pence, the No. 2 in power of the Trump administration, was seen exchanging friendly confabs in a rainy Monday with South Korea's Acting President Hwang Kyo-ahn under umbrellas.
As the vehicle carrying Vice President Pence arrived at the prime minister's official residence in Seoul, Acting President Hwang, who was waiting outside with an umbrella, welcomed his guest outside in person. After Mr. Pence got off from the car, the two men walked about 50 meters together holding umbrellas side by side towards "Samcheongdang," the place for luncheon. It is reported that the South Korean acting president gave explanations about the history of Samcheongdang and the old trees nearby while waking with the U.S. vice president.
Vice President Pence told Mr. Hwang that the visit had been planned several months ago but the timing became even more important, adding that the visit would be a chance to reaffirm the unwavering commitment of the U.S. to South Korea.
In the morning, Vice President Pence paid an unscheduled visit to the demilitarized zone (DMZ), the symbol of inter-Korean confrontation, to check the defense posture of the ROK-U.S. Combined Forces. Mr. Pence reaffirmed the Trump administration's hardline policy towards North Korea, stressing that his visit to the DMZ reflects America's commitment to addressing North Korea's nuclear program, adding, "But all options are on the table."
Mr. Pence's next destination was Camp Bonifas, the home to the United Nations Command Security Battalion for the Joint Security Area (JSA), where he visited the Freedom House to meet the men in uniform and encourage them. The U.S. vice president described the Freedom House as "frontier of freedom." He also visited the G.P. Ouellette, the most northern point of security merely 25 meters away from the military demarcation line (MDL) to take a look at the North in person with a telescope. In a meeting with journalists after the DMZ visit, Mr. Pence stressed his personal link with South Korea, saying, "My father (Edward Pence) fought for the Korean War from 1952 to 1953 as second lieutenant. I saw the battle field where my father fought. The partnership between the U.S. and South Korea is a great source of pride for my families and myself."
Mentioning his Korean War veteran father in a joint press conference, Vice President Pence greeted with Korean phrases "Annyeonghasimnikka (How are you)" and "Gachigapcida (Let's go together)."
Seung-Heon Lee ddr@donga.com