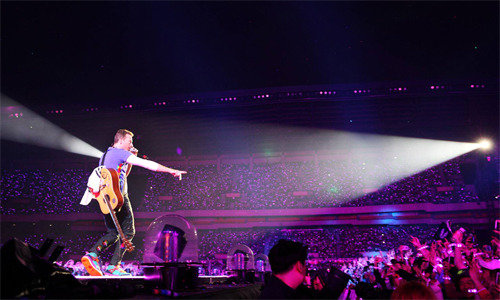 When this reporter visited the waiting room of Seoul Olympic Stadium on Saturday afternoon, Coldplay's Chris Martin said hello while holding my hand hard as if he was gripping a fingerboard. When he said, "Hi, I'm Chris," his voice was sweet and lightly deafening like the first melody of his song, "Don't Panic" (2000).
The first concert of Coldplay in Korea was held twice on Saturday and Sunday nights. Coldplay was called as one of four major artists who never visited Korea along with the Rolling Stones, U2, and Madonna. I met him after the concert rehearsal and he made a big smile by saying that "I am fully excited as the concert hall is so beautiful and I've never seen such a beautiful weather in weeks!"
He traveled downtown Seoul on Friday. "My music changes with the inspiration I got whenever I visit different countries and cities. Three new things happened to me yesterday. I went to the concert of Daegu City Symphony Orchestra (at the Seoul Art Center) and it was amazing. I also stood next to the statute of 'Gangnam Style' in Gangnam District. Watching the documentary of Walt Disney on TV at the hotel, I realized his perfectionism. When such new experiences are mixed together in my brain, something new will come out for my music."
Singer Chris said that images and colors often brought him an inspiration to write songs. "Sometimes I think how my music would be seen (and not be heard) by people. For example, the images appeared on the music video of 'Hymn for the Weekend (2015)' reflect the feeling we felt when we made the song."
The band has continued its worldwide tour since March last year and held more than 70 concerts in Latin America, Europe, the U.S. and Oceania. All tickets have been sold regardless of size and type of concert halls. Coldplay will embark the Europe and North America tour by October after its concert in Japan on Wednesday.
When I asked how he feels after holding concerts all over the world for a year, he said, "It was the best among several worldwide tours that we have had since our debut and I feel very lucky."
He said he has learned one thing from the tour. "Nowadays, the media focuses on separation and disputes. However, we've felt that people across the world are similar to each other. It's amazing," Chris said. "I mean it is amazing to experience the opposite to separation and disputes as we see the world directly."
imi@donga.com