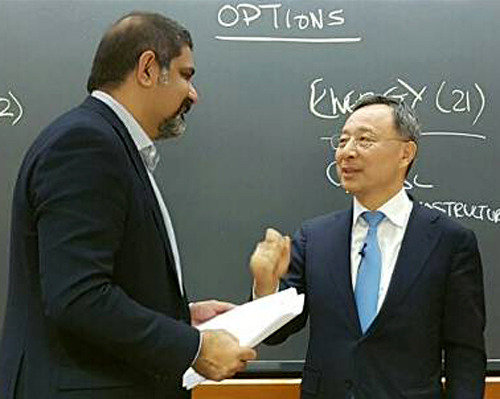 KT Chairman Hwang Chang-gyu lectured on the GiGAtopia strategy before students of Harvard Business School (HBS). He emphasized the importance of technology several times by saying that he met CTOs first to gain better insight from them.
KT's business performance for the past three years has been selected as its subject of case study. That was why the KT chairman was invited as the lecturer. KT has become the sixth domestic company that HBS selects as a subject of case study and GiGatopia strategy is the ninth subject of research among domestic companies. It is the first time that the business strategy of a Korean networking company is chosen.
KT picked out the technology differentiation strategy to overcome crises and it was called as GiGatopia Strategy. The engineer-turned-chairman said the company released three types of services including Giga Internet, Giga Wifi, and Giga LTE (long-term evolution) to implement the business philosophy of leading the market through innovation, and the company is now making efforts to be the leader of the 5G era.
Most students who attended the lecture already previewed the textbook titled "Korea Telecom: Building a GiGatopia" and there was a lively discussion with many questions during the lecture. When asked the secret of having insights and perspectives ahead of others, Hwang answered, "When I was in charge of the semiconductor business at Samsung Electronics and when I was appointed as the CEO of KT, I first had a meeting with CTOs as I believed that CTOs are always focused on predicting the future through technology."
Sung-Gyu Kim sunggyu@donga.com