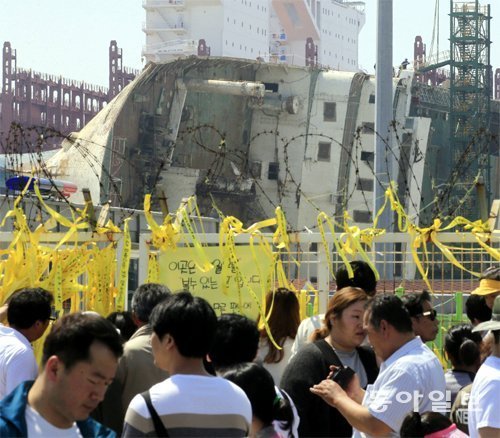 Marking the 3rd anniversary of the Sewol ferry accident, a number of commemorative events took place across the country. At Ansan City in Gyeonggi Province where Danwon High School is located, Jindo in South Jeolla Province where the worst maritime disaster took place and a port in Mokpo where the ferry is put on land, mourners flowed in and out all day, remembering the dead and wishing for the return of the missing.
At a government joint memorial altar in Hwarang Recreation Area in Ansan held an event to remember the victims and a mourning march of some 1,000 citizens. Hosted by April 16 Sewol Families for Truth and A Safer Society, the event had a special choir by Danwon graduates followed by commemorating speech by solidarity of Ansan citizen and performance by singer An Chi-hwan and others.
In Jindo, South Jeolla Province had a commemorating event wishing for the return of the nine missing victims and honoring the dead. Some 1,000 citizens took part in a memorial event held by the Jindo County government and countermeasures committee. "We ask for your attention and encouragement so that the nine unaccounted victims can return to their families," said Heo Hong-hwan, father of Heo Da-yun who is one of the students from Danwon. "We feel grateful for the citizens who have cared for the families of the missing for the last three years."
At a port in Mokpo where the Sewol is put on land, a mourning mess by Roman Catholic Archdiocese of Gwangju and a mourning march were held, expressing condolence and wishing the return of the missing.
Go-Ya Choi best@donga.com · Hyeong-Ju Lee peneye09@donga.com