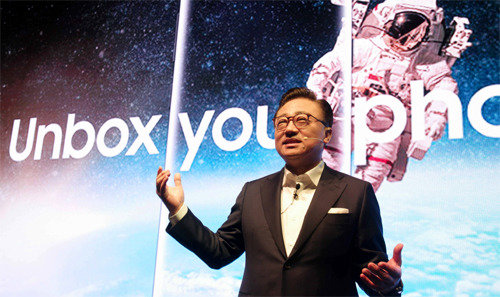 Prior to unveiling of Samsung flagship smartphone Galaxy S8 and S8+ in New York on March 29 (local time), Koh Dong-jin, president of Samsung Electronics' Mobile Communications Business, looked resolutely determined. Self-reflection on the "Galaxy Note 7," which was discontinued in October 2016 was more important than introduction of the new model.
President Koh was standing again in front of domestic media at Samsung's Seocho headquarters in Seoul after he was told that pre-order for the Galaxy S8 amounted to some 728,000 units between April 7 and April 12. "We aim to reach more than 1 million pre-orders by April 17," Koh said confidently.
After the unveiling events of global new products in New York and London, Samsung had to deal with busier-than-ever schedule. At the Milan Design Week 2017 on April 4 (local time), the company set up a dedicated gallery for the Galaxy S8. In the U.K. a huge Galaxy S8-shaped 7x3 meter sculpture was erected in tourist attractions such as London and Stonehenge. In Korea, an experience zone has been set up in some 3,500 stores across the nation starting from April 1. The idea was to capture undivided attention of its customer until the new phone is globally marketed on April 21 and the market has responded.
"Although we can't reveal the exact number, the pre-order volume of the S8 both from the global market and from domestic telecommunication companies is much larger than that of the Galaxy S7," said Koh. Some in the market say that the annual sales volume of the Galaxy S8 is expected to surpass some 60 million units. The annual sales of previous the Galaxy S models were somewhere between 40 to 50 million. Given this all-time high popularity of the new Galaxy model, Samsung is expected to have the highest-ever operating profit for the second quarter of the year.
There are multiple reasons why consumers show such an explosive interests in the Galaxy S8 series. For starter, potential demand for Samsung's premium smartphone has continuously grown for about six month since the discontinuation of the Galaxy Note 7. Others include remarkable competitiveness of the product itself such as "infinity display," AI assistant "Bixby" on top of iris scanner and edge design which were embedded on the Galaxy Note 7.
Now, analysists say that the remaining challenge for Samsung is how to remove the source of anxiety for "battery explosion" that has been imprinted in consumers' hearts and minds. The press conference on Thursday bombarded the Samsung president with questions about battery safety of the Galaxy S8. "Not only have we tested more than 100,000 units for battery safety, we have also applied every possible measure to secure the safety such as multiple safety design, safety tests for battery itself. It is the safest smartphone to date for Samsung," Koh explained.
Dong-Il Seo dong@donga.com