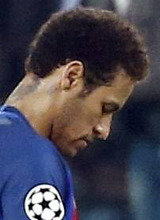 FC Barcelona in the Spanish Primera Liga is at risk of losing top position due to Neymar receiving penalty of being ordered not to run for three games.
Barcelona's Brazilian superstar Neymar violated disciplinary rule 117 that bans contempt or disregard of referee, coach and team officials and thus decided to order him suspension for three games, the Spanish Football Federation said Tuesday.
At the visiting game of round 31 at the regular league with Malaga on April 9, Neymar was ordered to exit the ground 20 minutes into the second half due to accumulated warnings, when he clapped his hands sarcastically towards the referee while departing. The federation then judged that his actions were a reason for disciplinary actions, and gave him one game suspension due to warning accumulation and two suspensions of games due to rule violation. This penalty only holds for domestic league, and so Neymar cannot play at games with Real Sociedad on the 16th, Real Madrid on the 24th and Osasuna on the 27th.
Barcelona is feeling the pain in that it has to compete with Real Madrid, whom it is playing for the No. 1 place, without Neymar. Barcelona is currently on the second place after Real Madrid after having played one more game and having 69 scores, three points behind Madrid. If Barcelona loses in the game, this season's victory could be nullified. Neymar is Barcelona's key attacker along with Argentina's hero Lionel Messi.
Jong-Koo Yang yjongk@donga.com