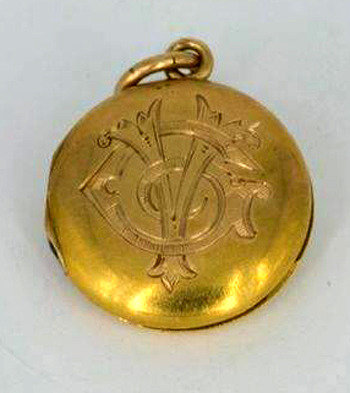 A locket (see photo) of a woman who was rescued by her husband from the Titanic that sank into the Atlantic Ocean on April 15, 1912 has been discovered in 105 years. The woman survived in a lifeboat while her husband disappeared under the water with the ship. Their story is drawing attention as it could rival the movie "Titanic."
The USA Today said on Monday (local time) that Virginia Clark's locket was unveiled at the Artifact Exhibition inside the Luxor Hotel & Casino in Las Vegas in recognition of the 105th anniversary of the ship's sinking. Researchers found the real owner with the initials V.C. on the locket.
Virginia was married to Walter Miller Clark who was the son of William Andrews Clark, the then Senator and a railway businessman, and had a two-year-old boy when they were aboard. The Clarks were on a belated honeymoon in Europe and they had an accident on their way back home on the Titanic from South Hampton to be with their son on his birthday.
Virginia Clark felt something hit the boat, and told this to her husband who was playing poker. Walter helped his wife into a lifeboat. Though he tried to escape, a lifeboat tilted suddenly and people flocked to the boat, separating the couple.
Eun-A Cho achim@donga.com