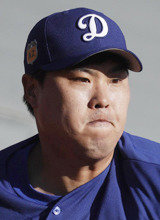 "Pitch in at least five innings in full." This is a special order placed to Ryu Hyun-jin (30) of the Los Angeles Dodgers, who will take the mound in the Major League after a 274-day hiatus. Ryu will start in the game against the Colorado Rockies at Coors Field in Denver, Colorado, at 5:10 a.m. on Saturday (Korea time).
To pitch in five innings as a starter is the first sign that Ryu has no health problem. He already pitched in five innings once at the exhibition game on March 28, but it is the first time that he will take the mound in a real game since July 8 last year. "We are expecting Ryu Hyun-jin will throw 80-90 pitches in total," Dodgers manager Dave Roberts said. Ryu threw 80 pitches in his Major League debut game in 2014, and 87 when he started in the first game in the 2015 season."
The South Korean pitcher can meet the requirements to become a winning pitcher only when he throws five innings in full. His health is more important than anything else, but it will be even better if he secures a win. If he wins on the day, it will be his first win in 950 days since September 1, 2014.
Coors Field where he will make a comeback to the mound is infamous as a "pitchers trap." Denver, which is home to the ball park, is situated at 1,609.3 meters above sea level. As a result, a hit by a batter flies a longer distance at this ball park due to low air resistance, putting the pitcher in a disadvantage condition.
Ryu is taking the mound at Coors Field for the second time in his Major League career since June 7, 2014. He gave two runs during six innings and became the winning pitcher at the time.
In five games against Colorado, Ryu has had three wins and two losses and an ERA of 4.00. For Colorado, Kyle Freeland (24) will start to stage a showdown against Ryu.
Kyu-In Hwang kini@donga.com