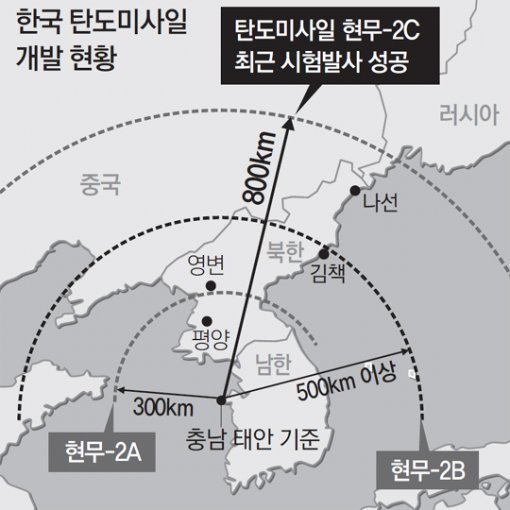 South Korean military authorities successfully conducted a test fire of a ballistic missile (temporarily named) "Hyeonmu- 2C" with the striking range of 800 kilometers capable of reaching any part of North Korea from the central parts of South Korea. The latest test fire by the South Korean military serves as a final performance check before making combat arrangements. Experts say that this is a warning message that South Korea is "capable of destroying the nuclear facilities and command center with preemptive strikes" against Pyongyang, which is escalating its threat of using ballistic missiles loaded with nuclear weapons for actual battles.
According to multiple military sources, the military authorities test-fired the Hyeonmu 2C missile at the Agency for Defense Development's Ahnheung test site in South Chungcheong Province in the presence of Defense Minister Han Min-goo, Defense Acquisition Program Administration Minister Chang Myung-jin, and missile developers. While the projectile did not fly the full distance of 800 kilometers owing to geographical constraints, a set of missile functions were tested at the final stage before combat deployment such as striking precision by shortening the striking range and firing it towards south. The military conducted test-firing of the same missile several times, but this time an unusual decision was made to disclose the success of the test. "The North is escalating tensions by unexpectedly firing a ballistic missile on Wednesday, and we've decided to announce the news that we are developing ballistic missiles capable of striking the North to dispel public anxieties," said a source from the South Korean military.
Since the missile policy between South Korea and the U.S. was revised in October 2012, the military authorities have focused on extending the missile range from 300 kilometers to 800 kilometers. In 2015, the military finished the development of the Hyeonmu-2B, following the previously deployed Hyeonmu-1 and Hyeonmu-2A, each of which can fly maximum 180 kilometers and 300 kilometers, respectively. The military authorities in South Korea are planning to beef up the Kill Chain system by securing as many Hyeonmu missiles as possible to preemptively strike the relevant facilities in North Korea in the event that Pyongyang should show signs of using nuclear weapons or launching missiles.
Hyo-Ju Son hjson@donga.com