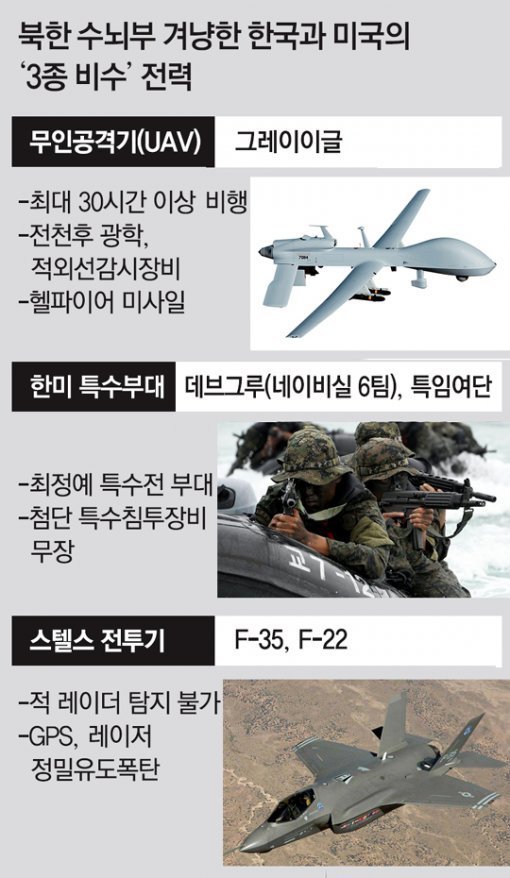 South Korea and the United States are shaping up their plan to remove the North Korean leadership as quickly as possible in the event of a war with their unmanned aerial vehicles, special forces, and stealth fighter jets, as the two allies are drawing up a concrete military operational plan targeting North Korea's wartime command including its leader Kim Jong Un who has the North's "nuclear button."
It seems to be part of efforts to test the effectiveness of the "decapitation" operation for removing the North Korean leadership that the U.S Special Forces units participated in the Foal Eagle joint military exercise in the largest scale ever and the U.S. F-35B steal fighters conducted a surgical strike drill. The forces focused on a scenario for simultaneously tracking down and striking the North Korean military command posts, underground bunkers and moving routes.
It is in the same vein that the U.S. military to plan to deploy a new Gray Eagle attack drone system at Kunsan Air Base in South Korea in February 2018. The drone is capable of staying in the air for over 30 to locate enemy command posts to be eliminated with missiles. A South Korean military official said that the key part of the operational plan is to paralyze the North's capabilities for waging a war by removing its leadership and give shock and awe to military units under them. The unmanned aerial vehicles, special forces, and stealth fighter jets are believed to be optimized for such operations.
There are more experts who believe that the North is afraid of military operations against its leadership than those who fear the U.S. extended deterrence for South Korea, including its nuclear umbrella. While the North considers U.S. warnings of nuclear retaliations nothing but bluffing, the North saw the decapitation operation conducted in Afghanistan and Iraq. A South Korean military official noted that the more nuclear threats the North posts to the South, the more the South Korean and the U.S. military will focus on eliminating the North Korean leadership.
Sang-Ho Yun ysh1005@donga.com