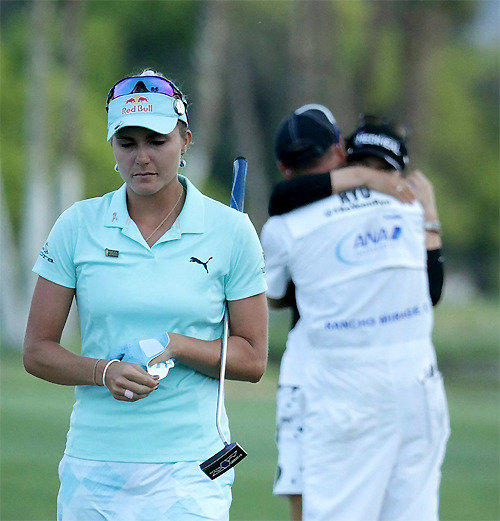 Lexi Thompson who failed to win at the last minute says she will leave the field for a while.
Through a message posted on her Instagram account on Monday, she said she appreciated fans' enthusiasm but decided to rest for three weeks.
At the 2017 ANA Inspiration, the LPGA's first major championship of the season, which ended on Monday, Thompson had been a sole leader before ending the game at hole 12 in round 4, and then received a four hit loss penalty the next day by playing from wrong place. She had to give up gaining No. 1 position.
Thompson through Instagram also sent a congratulations message to Ryu So-yeon who grabbed victory, saying that Ryu played well and she hoped Ryu's victory is not overshadowed by her penalty.
Penalty stroke was given as a TV viewer reported it, to which she said she accepts the decision despite being a painful experience, but added that she hoped people are aware of the fact that she never attempted to hit the ball intentionally putting it close to the hole.
The penalty stroke disputes were also fueled by players at Master's, the first major male competition for the PGA season, which will open on Wednesday local time. Rickie Fowler said rules that allow TV viewers affect the competition should be changed, adding all players would agree to his argument. Jimmy Walker also said it wasn't fair, adding no sports allow all people to judge. However, LPGA commissioner Mike Whan said it was a 100 percent right decision though it was a painful experience.
Jong-Seok Kim kjs0123@donga.com