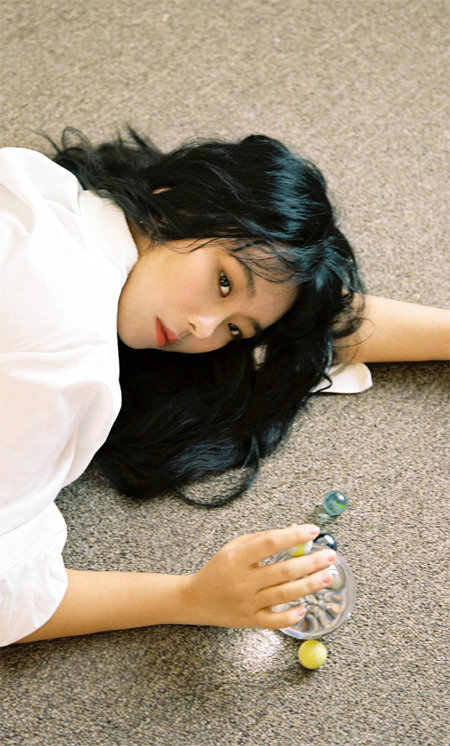 Lydia Lee, nicknamed "Adele girl," has received best vocal award at the Hong Kong Asian Pop Music Festival. She will issue the first global album through a French label in August at the earliest.
While a student in Seoul Music High School in 2015, Lee gained attention after she posted on social media and YouTube singing Adele's "Hello." Afterwards, she appeared at the Ellen DeGeneres Show, a popular show in the U.S., as the second Korean. She got "Adele girl" nickname there. She also received an Asian Supernova Award last month at the Hong Kong Convention Center, beating new singer's from China, Japan, Thailand and Hong Kong.
"It was a shivery moment equivalent to when I appeared at the DeGeneres Show when I stood in front of 12,000 foreigners," Lee told this reporter in central Seoul on Monday. "When I was singing Ray Charles' Hit the Road Jack, I forgot the lyrics and had to complete the song in ad-lib. I really didn't know I would receive such a big prize."
Although in a global spotlight, Lee was as humble as in the video singing "Hello" two years ago. "I was offered by big pop star management agencies, but kindly rejected them because I wanted to study arts management or film production in college," the 22-year-old singer said. But her fortune changed when she was contacted by the Ellen DeGeneres Show. "I was having lunch at school when my teacher called me, and said that Ellen show people were looking for me." She delayed entering college and opted to become a singer.
Last year, Lee went to the U.S. and the U.K. and made songs with famous composers including Ed Sheeran and Won Direction's co-composer Fiona Bevan. She published her single album "Blue" in February where she included her own story. The lyrics go, "I was born with blue dot on my left face. I removed it when I was a teenager with painful surgery but I had to endure a difficult adolescence." Her second single "Talking to Myself," which was recently published, also boasts of dreamlike music and singing ability. Initially considered a temporary star, Lee is maturing as a potential artist.
Lee plans to issue a mini album through France's "Believe Digital," which is a key music label in Europe. "I like Adele but my idol is (Irish singer) Damien Rice. I'm into Chet Baker and Lianne La Havas these days," she said. "I don't want to become famous appealing to the public's taste. I want to become an artist who does her own music."
imi@donga.com