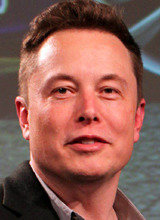 Tesla now exceeds 114-year-old Ford's market capitalization. The Detroit News and other American news media reported on Monday (local time) that shares of Tesla closed up sharply Monday, rallying 7.27 percent to 298.52 dollars, the highest record in its own statistics. Tesla's previous record was 291 dollars on Sept. 4, 2014. The skyrocketing stock price pushed its market value to reach 48.7 billion dollars (about 53.41 trillion won).
The stock price of Ford, second largest automobile manufacturer following General Motors (GM), fell on that day. Ford's sales in March fell by 7.2 percent or 237,000 vehicles comparing to last year along with declining stock price. The market value of Ford was recorded at 45.6 billion dollars (51.99 trillion won) after Tesla and took the third place for the first time. Tesla was established in 2003 and Ford was founded in 1903.
The Market cap of GM, which records the highest figure, was 51.2 billion dollars (57.385 trillion won). American media began to report that Tesla's market cap is closing in on GM's soon.
Boosted sales in the first quarter has led to the surge in Tesla's stock price. Tesla announced the day before that it released 25,000 vehicles in the first quarter. Tesla sold 800 units more than previous prediction of 24,200 by the Wall Street. The company also plans to unveil its Model 3 this year.
Having Elon Musk as its CEO, Tesla now leads the world's electric vehicle market and is rapidly growing each year. Before Tesla, it was generally accepted that electric vehicles are clean but slow and had a bad performance. However, Tesla has changed the game by releasing Model S and Model X one, which are known to show almost equal performance to sports cars.
Eun-Taek Lee nabi@donga.com